Bono Now Has a Spider Named After Him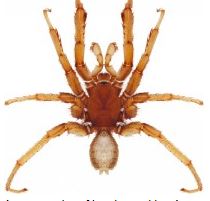 The list of species named in honour of musicians expanded by one more recently when a new type of trapdoor spider was identified.
Jason Bond is the director of Auburn University Museum of Natural History in Auburn, Alabama.  He's documented 33 new species of Aptostichus found in the northwest US–including three from Joshua Tree Natural Park.
The first two were named after Native American tribes.  The third shall ever be known as apostichus bonoi after Bono through his connection to the area with U2 album, The Joshua Tree.  See the resemblance?
(Via The Press-Enterprise)