Bono on "Cosying Up to Power"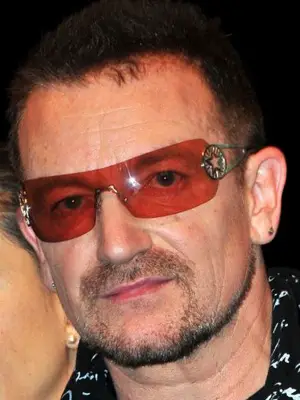 Bono is one of the few rock stars on the planet with near-unfettered access to the Illuminati. He'd like to make it clear, though, that he's not one of them. He just likes to hang out with our shadowy overlords.
From The Guardian:
For a week at the end of August Bono was travelling in west Africa, leading an invited group that included Condoleezza Rice, five Republican senators, corporate leaders from companies involved in the RED campaign (which donates money to the Global Fund to fight HIV/Aids), and artists including the LA dubstep pioneer Skrillex. The U2 singer was on what is a regular fact-finding mission – visiting hospitals, civil society organisations, politicians and young entrepreneurs – and introducing his eclectic tour party to some of the issues that his campaigning groupONE.org tries to keep at the forefront of global leaders' minds.
Having spent the first half of the tour in Liberia, he was in the Ghanaian capital Accra when this interview took place. A couple of nights earlier at a downtown bar, I'd watched him give an impromptu performance of Stand By Me with the house band. That morning we had met local advocates for the agenda of transparency – both for governance and business inGhana.
During that meeting Bono had heard the news of the death of his friend Seamus Heaney, so we talked first about that, before broadening the discussion to his 25 years as an activist for African development, the lessons he has learned and those he is still learning.
Read the whole Guardian inteview here. Once you're done with that, read about how he'll be joining world leaders at Global Citizen Fest in NYC this week.