Bono on Progress in the War on AIDS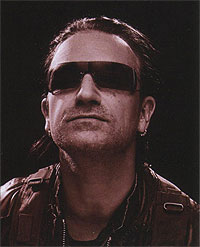 From yesterday's New York Times:
I'll tell you the worst part about it, for me.
It was the look in their eyes when the nurses gave them the diagnosis — H.I.V.-positive — then said there was no treatment. I saw no anger in their expression. No protest. If anything, just a sort of acquiescence.
The anger came from the nurses, who knew there really was a treatment — just not for poor people in poor countries. They saw the absurdity in the fact that an accident of geography would deny their patients the two little pills a day that could save their lives.
This was less than a decade ago. And all of us who witnessed these dedicated African workers issuing death sentence after death sentence still feel fury and shame. AIDS set off an almost existential crisis in the West. It forced us to ask ourselves the big, uncomfortable questions, like whether capitalism, which invented the global village and kept it well stocked with stuff, could also create global solutions. Whether we were interested in charity… or justice.
The wanton loss of so many lives in Africa offended the very idea of America: the idea that everyone is created equal and that your destiny is your own to make. By the late 1990s, AIDS campaigners in the United States and around the world teamed up with scientists and doctors to insist that someone — anyone — put the fire out. The odds against this were as extreme as the numbers: in 2002, two million people were dying of AIDS and more than three million were newly infected with H.I.V. Around 50,000 people in the sub-Saharan region had access to treatment.