UPDATE: Bono in Plane Accident Drama!
On his way to the Bambi Awards in Berlin from Dublin, Bono's aircraft ran into an issue when parts of it started falling off. This is never a good thing.
The LearJet 60 (registration number D-CGEO owned by MHS Aviation of the UK but registered in Germany) was on approach to Schönefeld Airport at an altitude of 8,000 feet just before noon local Wednesday when a tailgate (I'm not sure that that means–I'm reading a translation from German–but other reports say it's a cargo door.) measuring 80 x 100 centimetres came loose and fell off.  All the luggage fell out, but no one knows where it landed.
The two pilots were able to land the plane safely and Bono and four other passengers were not hurt. Oxygen masks weren't necessary.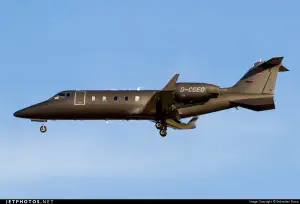 LearJet is owned by Canada's Bombardier. Just sayin'.
This isn't the first time Bono has been involved in a scary plane incident. In January 1996, Bono and his family were on holiday in the Caribbean and had planned to fly into Jamaica for a couple of days. When their chartered plane landed–it was a WW II era Albatross seaplane–Jamaican police opened fire on it, thinking that they had nabbed a bunch of drug smugglers.
Bono, his wife Ali, and the kids were disembarking at the time and were forced to dive for cover. The plane was hit at least seven times. Fortunately, no one was hurt–except the Jamaican economy.  The family was so shaken by the experience that they immediately decided to spend the rest of their vacation in Miami.
(Thanks to Larry for the tip.)