Bono Regrets His 80s Mullet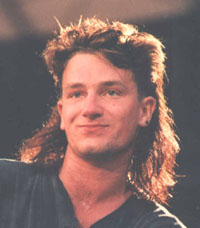 Any regrets to go with U2's 35+ year career?  Bono has a few.  Like that hair he sported in the 80s.
"I have an erase button on the mullet hairdo," he laughs.
"Many lay claim to the mullet. I'm trying to think of the guy who invented it."
Though Bono may cringe at his old hairdo, everything else about U2's rise can be looked back upon with pride. They've come a long way from four guys messing around with guitars and cover songs after school to one of the most important and influential bands in the world.
"Megalomania started at a very early age," Bono jokes.
Read the whole article here.  (Thanks to Larry for the link.)