Bono Set to Make Mega-$$$ From Facebook IPO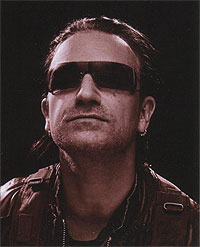 Not too long ago, Bono and his buddies Elevation Partners, the private investment firm, were rated as the worst investors in America.  Not so much anymore.
Some time ago, EP dropped a little cash into a start-up called Facebook.  And now that Facebook is going public, those early investors are in for a major payday.
How much does Bono and his people expect to reap?  It's tough to estimate given what we know about the Facebook IPO plans, but it's a lot.  A lot.
It appears that EP bought into Facebook three times for a total of $270 million.  If Facebook ends up being valued at $100 billion as most market watchers think, then EP's shares would be worth in neighbourhood of $1.5 billion.
Forbes estimates something a little lower.  They say Bono and EP own 1.5% of Facebook, which puts their stake at $750 million.
That's all pretty speculative, but if the $270 million investment is correct, then whatever happens, the very rich will be very richer.