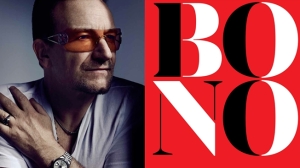 Bono.
You don't have to hear his name to know who he is. You don't have to hear U2 accompanying his name. Love or hate the man, his name evokes images of music, Africa, rock stars and politicians (as well as some less loving labels like megalomaniac). He is a force.
As frontman of U2, he is among the most successful rock musicians in history. As a businessman, he's been party to lucrative investments in fashionable new tech companies like Facebook and Yelp. And as a global statesman, he's had arguably more influence than any other celebrity activist, helping lead international efforts to address extreme crises of poverty and disease.
In other words, Bono has universal clout.
"He's one of these timeless global icons," says Charles Gibb, president of luxury vodka brand Belvedere, a partner of (RED), the charity product label Bono co-founded. "He resonates in every single country around the world. He's an absolute driving force on the political scene, in the music scene and in the cultural scene."
Read more about what being a superbrand means here.