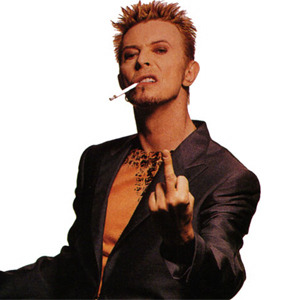 It's been awfully quiet on the David Bowie front for the last couple of years. The rumours of ill health–around since he had an onstage heart attack in 2004–are worrisome.
How can one of the most famous men in music live so quietly in New York? He and wife Iman have their pad in Soho yet there are no pictures, gossip or stories about them. He was most definitely invited to participate in the opening ceremonies of the London Olympics but politely declined.
Then there's this big Bowie exhibit at the Victoria and Albert Museum in London. Surely he's involved in that.
Nope. But at least he does have something to say about that. And where does his statement appear? Facebook.
DAVID BOWIE AT THE VICTORIA AND ALBERT MUSEUM 2013
Contrary to recently published reports relating to the announcement by the V&A of an upcoming David Bowie Exhibition, I am not a co-curator and did not participate in any decisions relating to the exhibition.
The David Bowie Archive gave unprecedented access to the V&A and museum's curators have made all curatorial and design choices.
A close friend of mine tells me that I am neither "devastated", "heartbroken" nor "uncontrollably furious" by this news item.
David Bowie. August 28th, 2012
Well, at least it's something, innit?
(Via Hollywood Reporter)