Bowie's Last Twitter Follow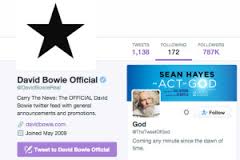 There really is no end to the details that people want to know when it comes to David Bowie. This one caught my eye:
Eagle-eyed fans have noticed that David Bowie followed a Twitter parody account claiming to be the tweets of God shortly before his death.
Bowie passed away at the age of 69 on January 10 following an 18 month battle with cancer.
With his death having already been described as a "work of art", some fans have now spotted that the last account that Bowie's official Twitter page followed was @TheTweetOfGod. The account is connected to Broadway play An Act Of God.
Reality is this Twitter account is run by David Javerbaum, Emmy award-winning writer from The Daily Show with Jon Stewart. You can check out his Tweets here.
Read more on the story at The NME.