Britpop Fans Might Want to Buy This House
All good Blur fans know that the the song "Country House" was written about a real estate purchase by Dave Balfe, the head of Food Records, the indie label that signed the band. When Dave sold Food to EMI, he took the money and bought a nice pile in the countryside.
That house in Bedfordshire with its nine bedrooms and croquet lawn is now up for same for £2 million.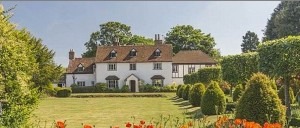 If you're interested in owning a house Britpop built, go here.