Bruce Springsteen and Paul McCartney Silenced by Curfew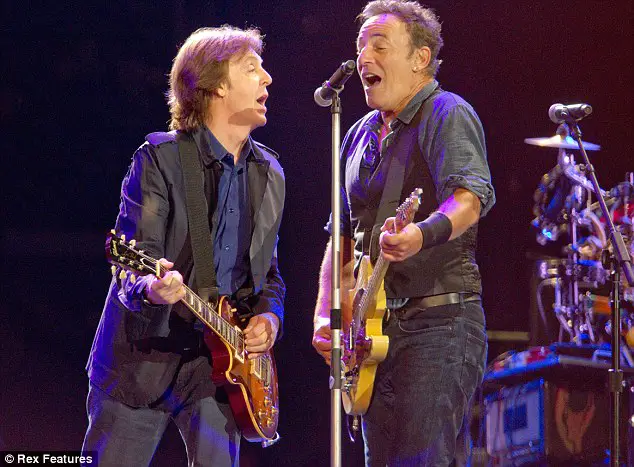 There's nothing worse with than an officious bureaucrat, those drab people who live to enforce the rules because, well, they're the rules.
Last night, Bruce Springsteen played a pre-Olympic gig in Hyde Park. His set started at 7:30 and continued for more than three hours. Typical Bruce, right?
But then it got better. Paul McCartney stepped onstage.
The next minutes must have been magical: Springsteen, McCartney, Rage Against the Machine's Tom Morello and the rest of the E Street Band belting out "I Saw Her Standing There." That segued into "Twist & Shout."
I know. Holy shit.
But towards the end of the first song, some saw what CNN describes as "a drably dressed man with sensible hair" waving at everyone from the back of the stage. This was the officious little bureaucrat.
When "Twist & Shout" ended, so did the sound. No PA. Springsteen, McCartney and everyone else schlepped off the stage without being able to say goodnight to the 65,000 people losing their minds at the spectacle.
Yes, there's a 10:30pm curfew for concerts in Hyde Park. Yes, there were 130 noise complaints filed by residents in 2011. But this is London 2012! The Olympics! Springsteen and f**kin' McCartney jamming!
But no. Rules are rules. And heaven forbid the London council receive more complaints from the people living around the park, inhabitors of some of the most expensive residential real estate on the planet. Hence the drably dressed man with the sensible haircut–whoever he was.
Steven Merchant, Ricky Gervais' writing partner tweeted this: "Ashamed to be British right now. Springsteen and McCartney playing Twist & Shout in Hyde Park and council pulled the plug cos of curfew."
Here's the set list:
1. Thunder Road (Bruce & Roy)
2. Badlands
3. We Take Care of Our Own
4. Wrecking Ball
5. Death to My Hometown (with Tom Morello)
6. My City of Ruins
7. Spirit In The Night
8. The Promised Land (with John Forgerty)
9. Take 'Em As They Come
10. Jack of All Trades (with Tom Morello)
11. Empty Sky (solo acoustic)
12. Because the Night
13. Johnny 99
14. Darlington County
15. Workin' on the Highway
16. Shackled & Drawn
17. Waitin' on a Sunny Day
18. Raise Your Hand
19. The River
20. The Ghost of Tom Joad (with Tom Morello)
21. The Rising
22. Land of Hope & Dreams

Encores:
23. We Are Alive
24. Born in the USA
25. Born To Run
26. Glory Days
27. Dancing in the Dark
28. I Saw Her Standing There (with Paul McCartney)
29. Twist and Shout (with Paul McCartney)
There are, however, people who are coming to the defense of the drably dressed man. "He was just doing his job," they say. Henry Rollins might side with this argument. In fact, he might be even more insistent. See?