Calling all Radiohead fans: New book coming out in May
Just in time for the band's introduction to the Rock and Roll Hall of Fame, Phil Rose is about to release a new book on Radiohead.
Titled Radiohead: Music for a Global Future, the book looks at the band's creation and progression, from On A Friday through A Moon Shaped Pool.
The book sets out to discuss the importance of Radiohead across the band's two-decades-and-counting existence, the push-and-pull relationship with technology and how it's changed the band's sound, and why they might just be the voice of reason after all.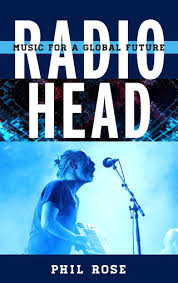 "I was not to become properly aware of Radiohead until the release of OK Computer in 1997," Rose says in a release about the book. "Later that year, I began to perform alongside another local musician, who introduced me to that landmark album, and its impressive 1995 predecessor, The Bends. I was immediately impressed with how the band downplayed photographs of themselves on album sleeves and covers, and the high sophistication involved in the production of both recordings. Over the course of the next three and a half years, we incorporated our own versions of many of the songs from the two albums, and I continue to incorporate songs from subsequent Radiohead recordings into my solo performances."
Rose will also explore the juggernaut that was both the release of OK Computer and the "media fallout" that followed the brilliant album's success; the creation story behind Hail to the Thief; efforts to curb carbon emissions during 2003 and 2006 performances, including banning the use of air transportation for band and crew while supporting In Rainbows, in addition to that album's "pay what you want" distribution experiment.
"Many of the questions we face are simply reformulations of earlier ones, but many also present us with new and uncharted territories of concern, whether we're referring to information overload, human cloning or other forms of biotechnology, mass surveillance, automation, industrial hog farming, global climate change, geoengineering, or the military-industrial complex," Rose says. "One of this book's primary purposes is to trace how Radiohead draws our awareness toward such issues, and I'd suggest that the band's corpus therefore presents an important resource for assisting us in the social and psychic navigation of our new technological age."
This is Rose's second book on Radiohead; the first was titled Radiohead and the Global Movement for Change. This new book is due out May 15.