Can you decipher the clues in this poem? If you can, there could be $2 million in it for you
I have no idea who Forest Fenn is, but I like the cut of his jib. This is from BigThink.com:
Forest Fenn led an adventurous life. So when it came time to secure his legacy, he devised a modern-day treasure hunt the likes of which are usually reserved for mavericks, outlaws, and pirates. The 80-something year-old millionaire buried a treasure chest somewhere in the Rocky Mountains, most likely between Wyoming and Colorado, although it could be anywhere from Montana to New Mexico. It's filled with gold, jewels, and impressive artifacts, estimated to be worth about two million dollars.
The mystery's progenitor has provided a poem full of clues for anyone who has the brains, the heart, and the gumption to search for it. Thousands have tried and two have died, as clues—which look simple on the surface, quickly grow maddeningly difficult to decipher. Fenn, now 87, was a fighter pilot during the Vietnam War. Afterward, he became an amateur archeologist, self-taught, and set up a shop selling artifacts in Santa Fe, New Mexico.
Cool, no? Here's the poem.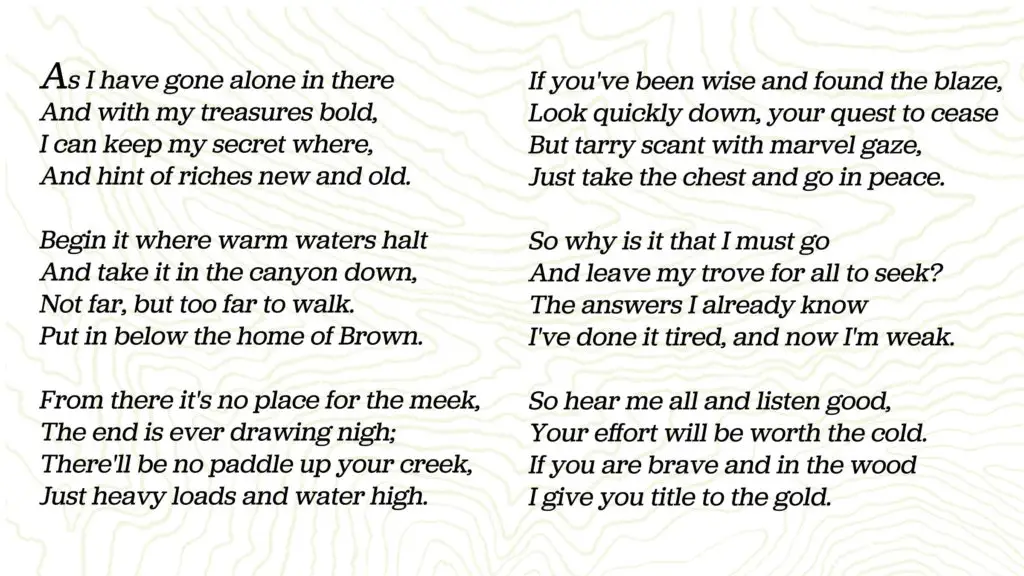 Read the whole article here.