Can the Lyrics of a Song Predict Its Commercial Success?
SPOILER ALERT:  Yes.
First, let's break song topics down by decade:
1960s: Nostalgia, Pain, Rebellion
1970s: Nostalgia, Rebellion, Jaded
1980s: Loss, Aspiration, Confusion
1990s: Loss, Inspiration, Escapism
2000s: Inspiration, Pain, Desperation
Now take a look at this chart words used in lyrics through the years: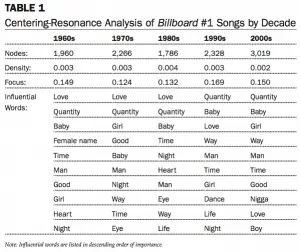 There's more information coming, too, via a study schedule for publication in June in Journal of Advertising Research.    Further reading is available right now in Pacific Standard magazine.
(Pamela Chelin contributed to this article.)