Canadian Anti-Spam Law Opposed by…the Canadian Recording Industry?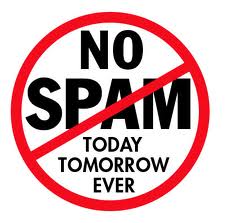 Like you, I'm bombarded with email spam every day.  Filtering is getting better, but even one unwanted message is too much for me.  This is why I'm in full favour of there being some kind of anti-spam law on the books in Canada.  
(Hopefully, it will work better than the Do Not Call List bullshit.  If I get another call from someone asking me if I want my HVAC vents cleaned…)
Strangely, though, the Canadian recording industry is against the current proposed anti-spam legislation. That's right:  they're in favour of spam.  Sort of.  Copyright expert Professor Michael Geist explains:
The business opposition to Canada's anti-spam legislation has added an unlikely supporter: the Canadian Recording Industry Association, now known as Music Canada. The organization has launched an advocacy campaign against the law, claiming that it "will particularly hurt indie labels, start-ups, and bands struggling to build a base and a career." Music Canada is urging people to tweet at Canadian Heritage Minister James Moore to ask him to help bands who it says will suffer from anti-spam legislation.
Yet Music Canada's specific examples mislead its members about the impact of the legislation. The organization offers seven examples posted below in italics (my comments immediately follow):
Bands and labels will struggle to build fan bases.
This is just rhetoric. It isn't a specific example and doesn't explain how the legislation will do this.
Social media may be hampered, and you may have to unsubscribe fanbases – because you can't confirm whether they continue to want to receive electronic updates. If you have electronic newsletters or mailing lists, you may need to remove recipients, because you no longer have consent to send them, and you're prevented from seeking consent electronically.
Social media based on consent won't be hampered as the law permits this form of marketing with consent. It is true that email marketing lists will shift to opt-in, but the existing lists mentioned by Music Canada are valid for three years after the law takes effect (meaning they will likely remain valid until 2017). Contrary to what Music Canada says, the law does not restrict using electronic consent to update those existing lists during that time period. 
Professor Geist isn't the recording industry's favourite commentator.  I await their response to this blog entry with interest.