Canadian iHeartRadio Users Might be Getting Bamboozled into Downloading the Wrong App
Because it's part of my job, I subscribe to everything. Spotify, Apple Music, Google Play Music, Deezer–I get 'em all because I need to know how they all work and what their strengths and weaknesses are. So when it was announced last week that the first iteration of iHeartRadioCanada was available in the App Store, I launched a search on my phone, found it and installed the app.
Or at least I thought I did. I got completely fooled.  Here's the search screen that came up.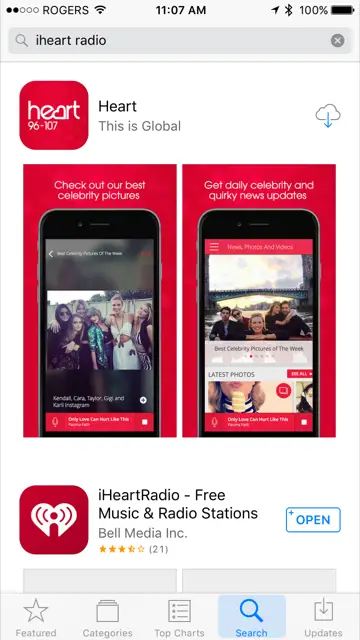 Because I searched for "iHeartRadio," I just assumed that the first item on the list was what I was looking for. The colour and the font looked okay and the word "Heart" was front and centre. And just above the menu bar on the bottom was "iHeartRadio." Subliminally, everything seemed good. So I clicked "Get."
When I fired it up, I was…underwhelmed. Music I didn't want started immediately began to blare. I couldn't find anywhere to shut it off, so I just force closed the app. Same thing when I tried it again a few hours later. "This is lame," I thought. "Really bad execution. What are they thinking?"
Turns out it was all my fault. Because I didn't look too carefully at what I was downloading from the App Store search, I ended up with something called "Heart 96-107," a UK-developed app which has nothing to do with iHeartRadio Canada, Bell or iHeartRadio in the US.
Someone inside Bell–someone who really knows what's going on with iHeartRadio–pointed out that I had downloaded the wrong app. "This is trying us crazy," he said. "Up to 30% of the people looking for iHeartRadio are downloading the wrong thing! Our iHeartRadio shows up on the 'trending' list but when you do an open search for it, it's been coming up second after 'Heart.' We don't know why."
Then it hit me: the alphabet. "Heart" comes before 'iHeart." Sneaky. Kind of like the days when "AA Auto" was pushed out of the first listening in the phone book by "AAA Auto."
Consider this your downloading safety tip for the day. I'll give the proper app a whirl and report back.