Canadian Musician Entrepreneurship Program Featured in Forbes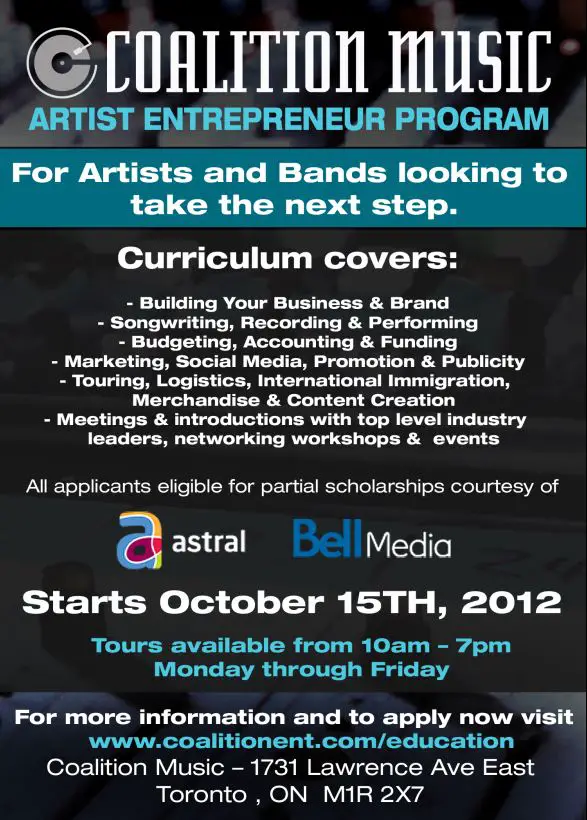 Ruth Blatt writes in Forbes about what Toronto's Coalition Entertainment is doing with their Artist Entrepreneurship Program.
In the first article in this series, I argued that rock musicians benefit from business skills that enable them to run their bands like small businesses. In this article I describe three unique types of programs, each of which presents a different approach toward teaching musicians to be business minded.
The first program is a short and intensive intervention that teaches musicians to be savvy managers of their own careers. The Artist Entrepreneur Program grew out of Coalition Music, a Toronto-based artist management company.
"Young artists were coming to us saying, 'I don't know what to do, where to go to get to a point so someone will pay attention to me," told me Eric Lawrence, owner of Coalition Music. Although the blogosphere offers endless advice for aspiring musicians, some of the advice is contradictory and changes from genre to genre or from artist to artist.
"Most of the people coming here are very lost and confused," concurred Vel Omazic, former Head of Promotion and Publicity for Sony who now runs The Artist Entrepreneur Program. The 10-week intensive teaches 20 musicians at a time the skills and knowledge they need to build a successful career in the music business.
The primary goal of the program is to get artists to think of themselves in commercial terms. "They need to understand that they're running their own business," said Lawrence. "The cards are with them and they have to drive the bus on their own careers." This means learning about registering as a business, protecting their artist name, and mastering the legal ins and outs of publishing, label relationships, and their own band's partnership agreements.