Canadian Musicians Continue March Towards World Domination
SOCAN–the Society of Composers, Authoris and Music Publishers of Canada–is in charge of tracking where and when songs by Canadian artists get played and then collecting the appropriate performance fees which are then distributed back to the artists. SOCAN is uniquely qualified to measure how well Canadian artists are doing on a global scale. And right now, they're doing very well.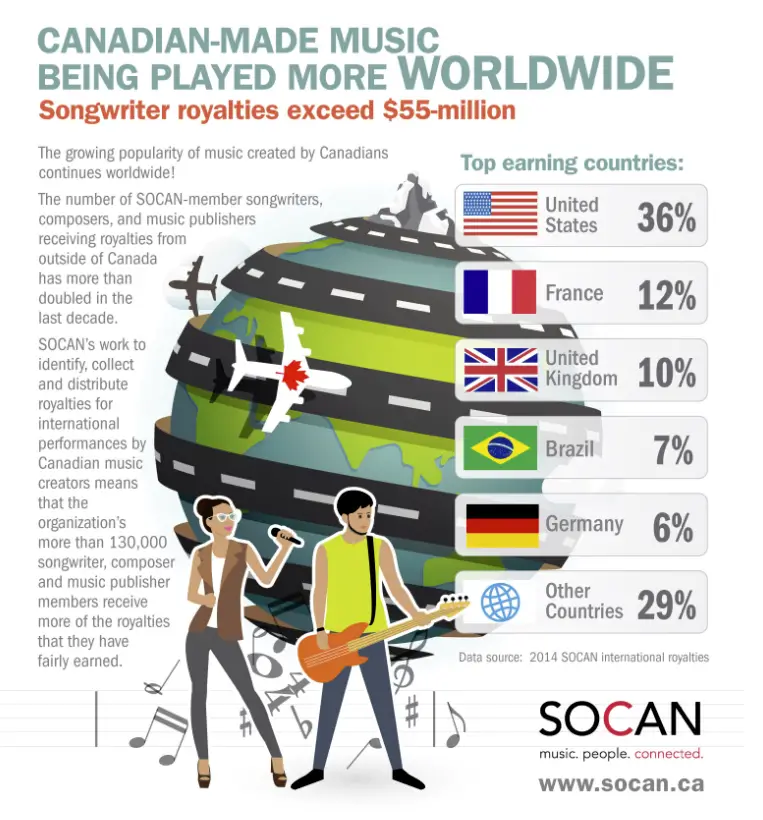 I quote from the press release:
The United States is by far the country where Canadian-created music is played most, capturing 36 percent of the international share. After the US, the countries generating the highest international earnings for SOCAN-member created music include:
France, second, generating $6.7-million in royalties for Canadian music creators, which can be attributed both to strong French-Canadian SOCAN-member appeal and that country's strong cultural belief in the legal and ethical use of music.
The United Kingdom, which continues to be a hotbed for Canadian musicians. Collections totaling $5.4-million last year, followed by Brazil ($3.7-million) and Germany ($3.3-million).
The largest percentage increase on any foreign country is in Brazil, where royalties for SOCAN members are up 36 percent. Revenue generated from Australia continues to increase, with an annual growth rate of nearly 8 percent
Nice to see what Canadians are punching above our weight when it comes to exporting music.