Can't sleep because of COVID anxiety? Try this music.
Here's another one of those music surveys commissioned by a company looking to get some free mentions online. Still, the information can be useful.
With so many people unable to get a good night's sleep, this mattress dealer (see what I mean?) wanted to know the best songs for bedtime. What artists are best for a good night's sleep? They got a company to analyze the Spotify habits of about 1,000 people and returned with these findings.
The Beatles, Mozart, Beethoven, and Taylor Swift are the most listened-to artists in bed.
If we look at genre, pop is number one, followed by classic rock and whatever passes for easy listening these days. (Does anyone even use that term anymore?) Then it's classical followed by alternative.
12% listen to metal.
Want to sleep really well? Those who listen to–wait for it–disco report sleeping the best (77%). EDM listeners reported the worst sleep (54%).
67% of people who listen to music in bed sleep better and longer than those who don't listen.
When it comes to dreams about musicians, the most dreamt-about are The Beatles, Taylor Swift, and Michael Jackson.
If you think that last statement was weird, the study claims that 82% of people have dreams about music.
Let's examine that last one with this nifty chart. Please note the second-to-last statistic.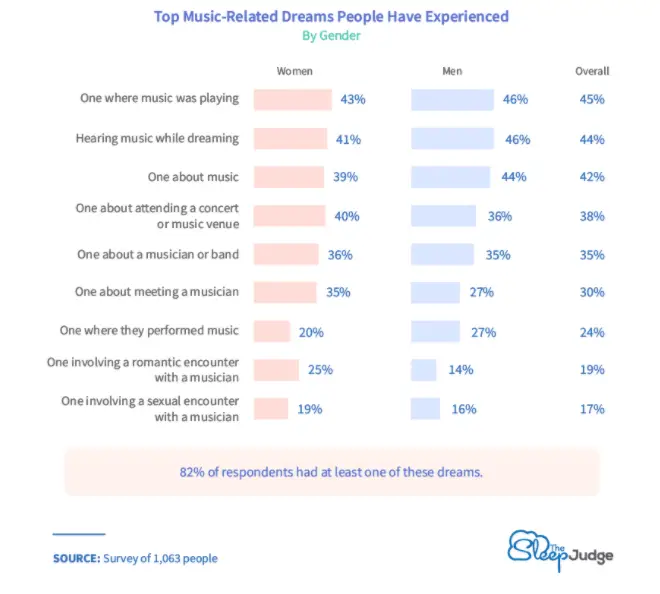 Check out the whole study here.