Cassettes Are Making a Comeback. Why?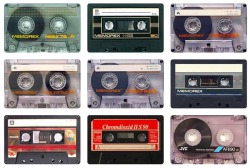 Last week as I was preparing the first episode of my new radio program, The Secret History of Rock, I need to get some music from a cassette. It was the legendary "Mama Son" demo tape that got Eddie Vedder the job with Pearl Jam.
I found the cassette no problem–it's included with the super-deluxe reissue of Ten–but that's where I the confusion began. It was so long since I used a cassette that I'd forgotten what it was like to use a cassette player.
The cassette machine was a clunky mechanical thing. Access was slow. Digitizing had to be done in real time. Levels were inconsistent. There were wobbles. Set next to today's technology, cassettes are like chipping music into stone tablets.
So why are they making a comeback?
I found this article from The Spartan Chronicle, Aura University's online student newspaper. It helped. A little.
Although the second coming of vinyl brought back the idea of discovering obscure album gems, cassettes seem to be taking it a step further. Cassettes don't pressure the user to listen through an entire album as much as vinyl does; it's much easier to fast-forward through a cassette than it is to reposition a needle on a turntable. This allows more flexibility for listening, but still pushes users to discover songs they would otherwise be oblivious to. While the combination of both methods of listening is a likely contributor to the newfound popularity of cassettes, it may only be the tip of the iceberg.