CD Manufacturer on Fate of the CD: "I'm Not Dead Yet!"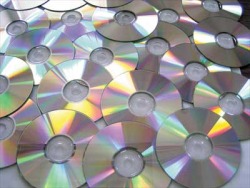 Disc Makers is the biggest independent manufacturer of CDs and DVDs.  You'd think that with physical CD sales in freefall (double digits this year in the US, about 9% so far in Canada) that they'd be looking for an exit.  Or a noose.
Apparently not, though.  From Echoes:
The company announced today that in October it broke two of its all-time disc replication records, proving that — as much as ever — physical media is a crucial part of any musician's product offerings and the CD is not yet dead. In October 2012, Disc Makers replicated 4,380,296 CDs, an increase of over 600,000 units from October, 2011. This figure outpaces Disc Makers' prior all-time monthly CD & DVD replication record of 4,013,000 CDs, which had held since 2008.
Who knew?  Read more here.