Check out these pictures from the Breaking Benjamin/Five Finger Death Punch/Nothing More/Bad Wolves show in Toronto
[Once again, Andrei Chlytchkov was hustled into the photographer's pit at the Budweiser Stage to capture some live rock shots. These are from the night of August 20. Text supplied by L. Benny Sanders and Mayerling Rivera. – AC]
Monday Music Madness! How often do you get to hear four amazing bands in one evening? The production went like clockwork. Each artist entered and exited the stage with exact timing. Seated in the front row of the 200 level was the ideal location to live this event.
6:00 PM:  A medium-sized yet excited group of fans crowded the floor area in front of the stage to see Bad Wolves start their set with "Officer Down" and "Learn to Live". Lead vocalist Tommy Vext asks the masses "Are you awake?" With all fists in the air, they launch it "No Masters" (mirroring the first three cuts on their CD Disobey) after which Vext thanks the audience for coming early and supporting Wolves. He gives a nod to Montreal (the previous night's concert) and after three more tunes from the CD tells us it's only their second Canadian appearance. They close with a cover of The Cranberries' "Zombie" and the audience sings like a heavenly choir in memory of Dolores O'Riordan.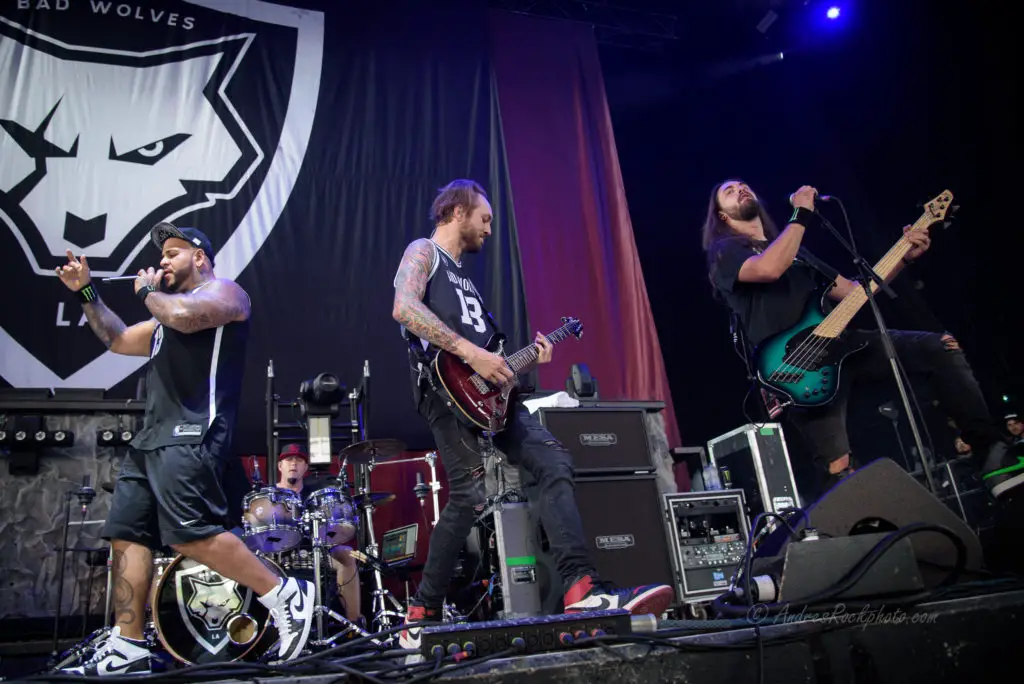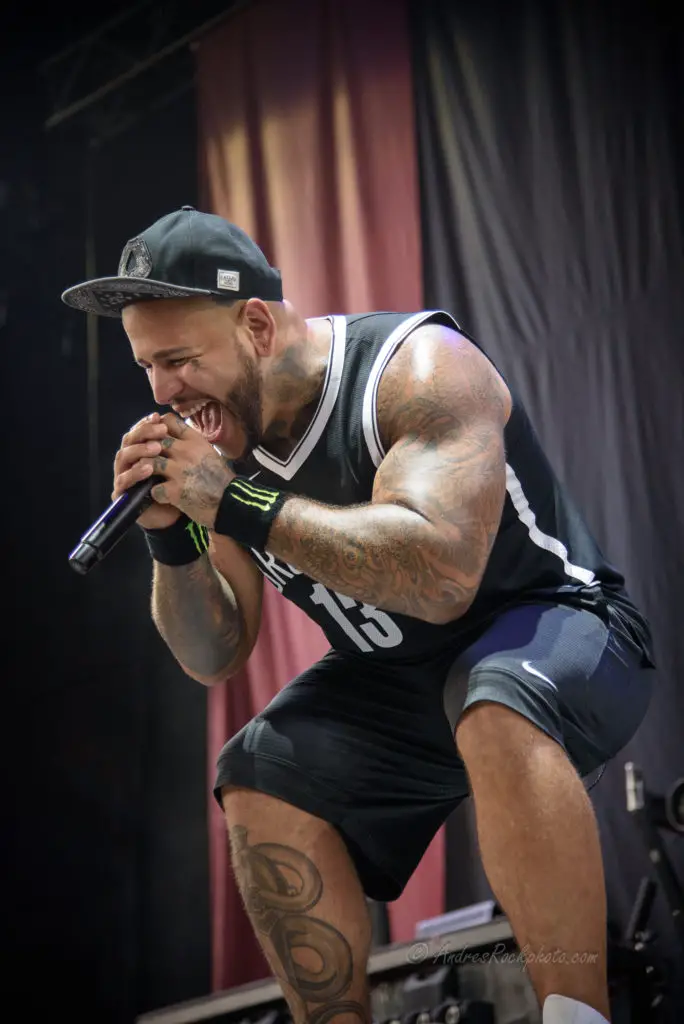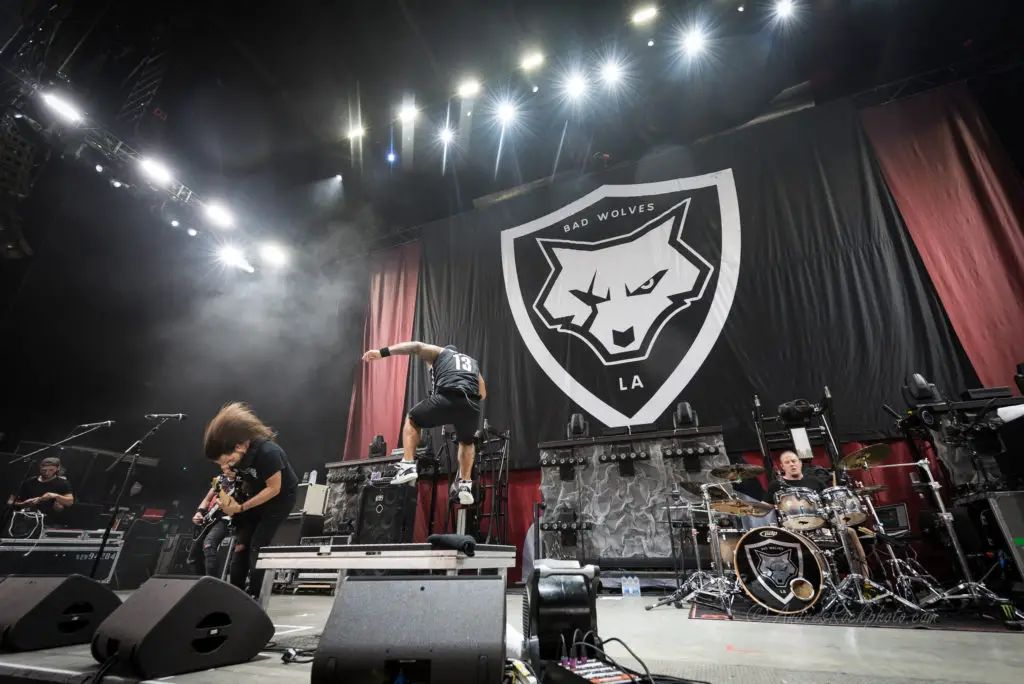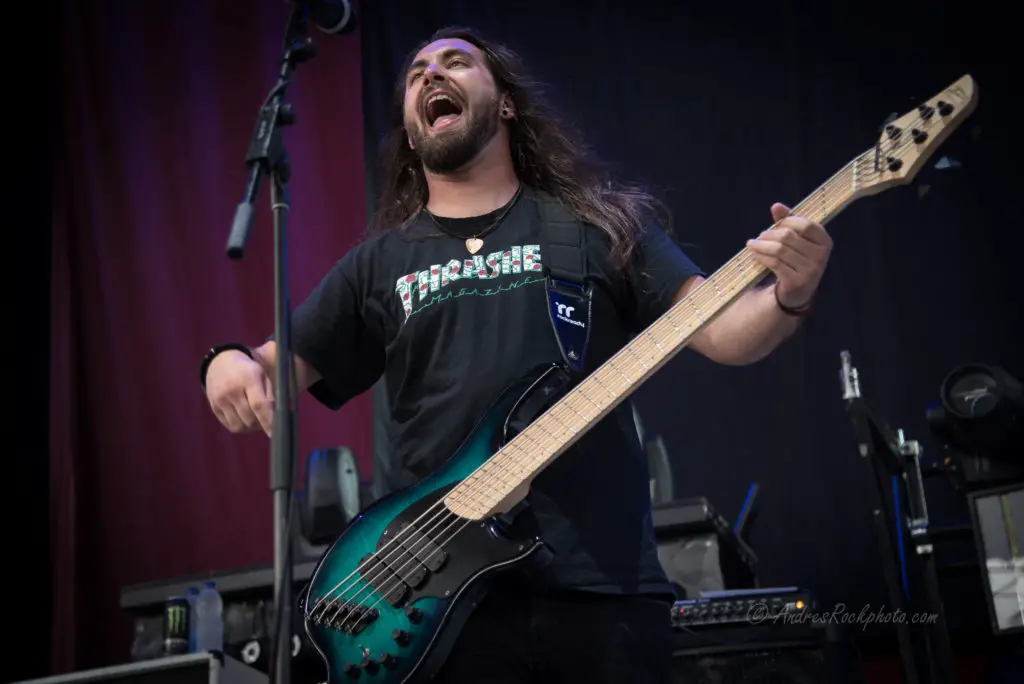 6:50 PM: Nothing More drummer Ben Anderson captivated the crowd first, then was joined by the rest of the band including vocalist Jonny Hawkins on his personal percussion kit for "Do You Really Want It?" Their nine-song set included the lead-off single from the band's debut album This Is the Time during which Hawkins mounted the Scorpion Tail, a huge synthesizer tower construction from where he performed a monster call-and-response with guitarist Mark Vollelunge.  The set ended with "Salem (Burn the Witch)" in which the crowd on the floor entangled in a giant scrum and the entire band joined in using various drums.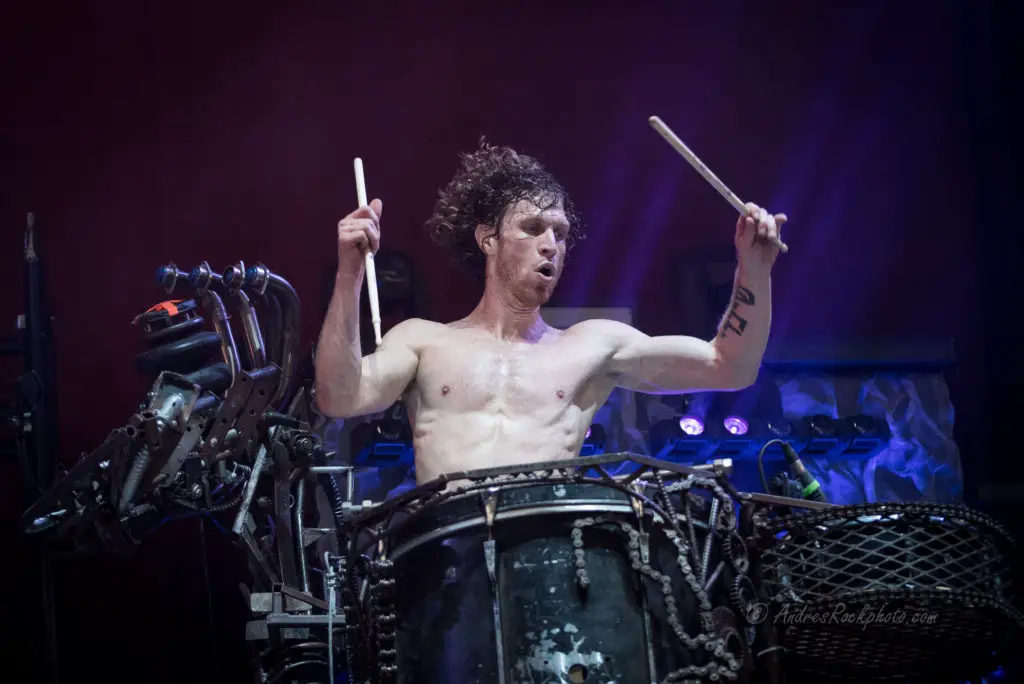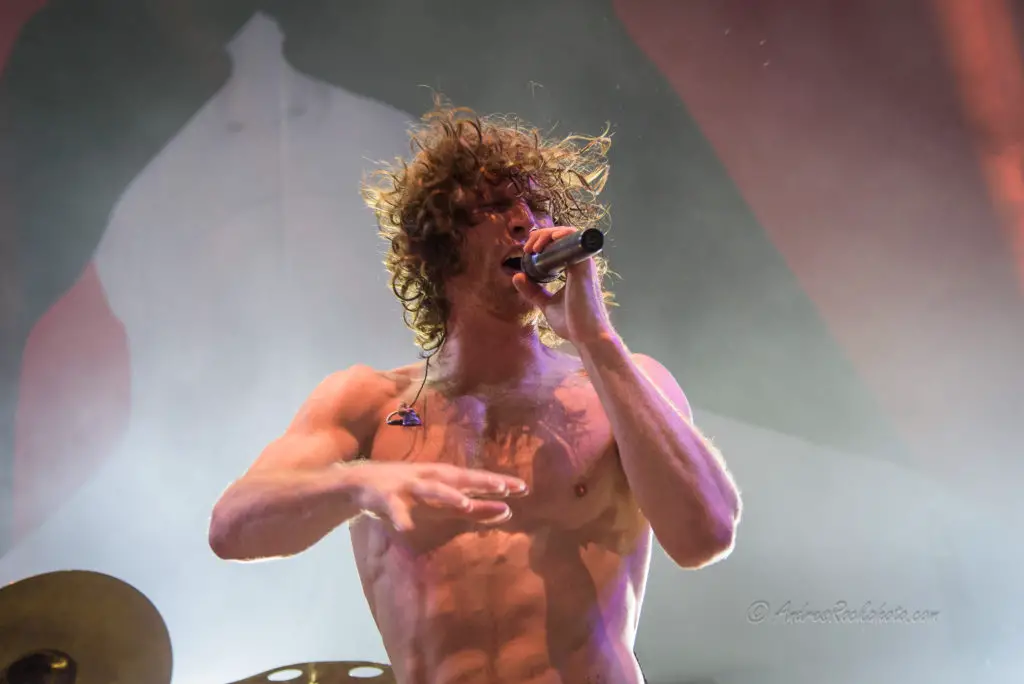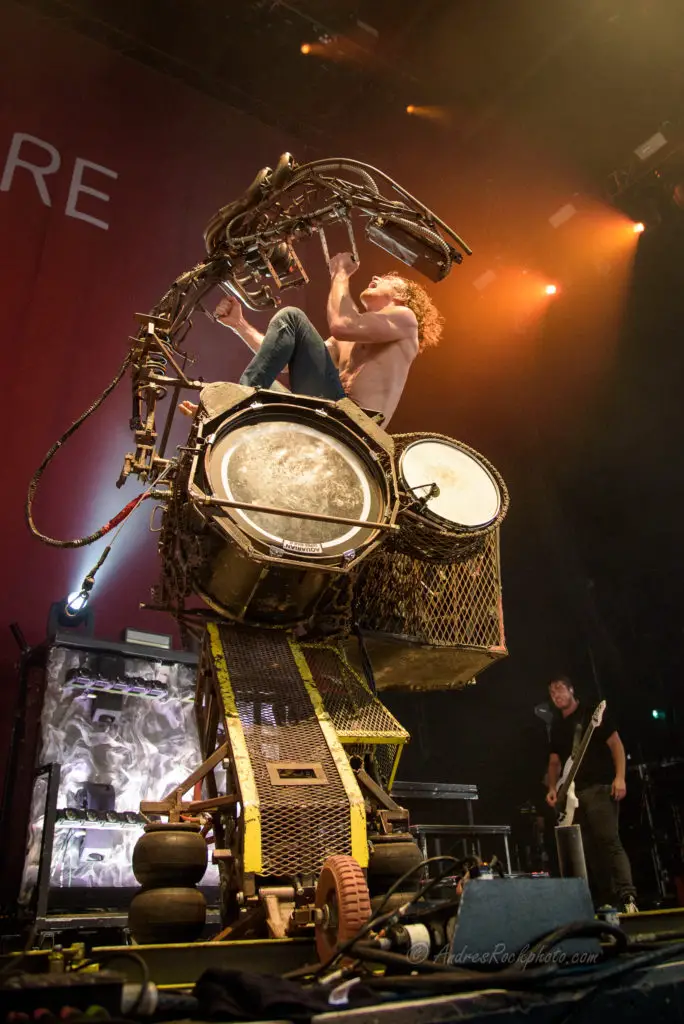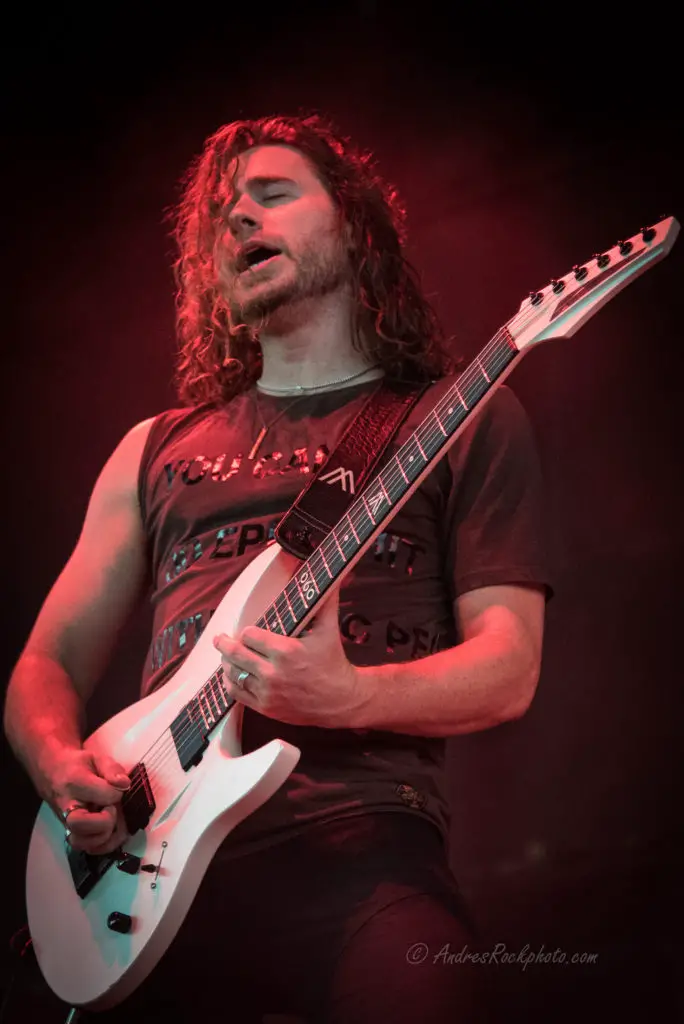 8:00 PM: After a brief bit of "I Love You," Five Finger Death Punch ruled the crowd from the opening note of "Lift Me Up" which earned the band Best Song of 2014 – Metal Hammer Golden Gods Awards. Vocalist Ivan L. Moody's voice was clear and punched out through massive guitar jams by Jason Hook (a Torontonian), and Zoltan Bathory. With skeleton clad Jeremy Spencer (Golden Gods best drummer – 2012) providing the beats under a giant skull and cross bats, and Chris Kael (Golden Gods best bassist – 2014) on bass, the crowd was in the palm of their hands. Jamming favourites such as "Under and Over", "Wrong Side of Heaven", they had the whole assemblage singing with them on their cover of "Bad Company". Even though the band tends to be known as a heavy, thrash and groove metal band, their acoustic set captured us all and Moody had a group of kids join them to sing the ballad "Remember Everything" (which made this review tear up). All eyes and ears satisfied.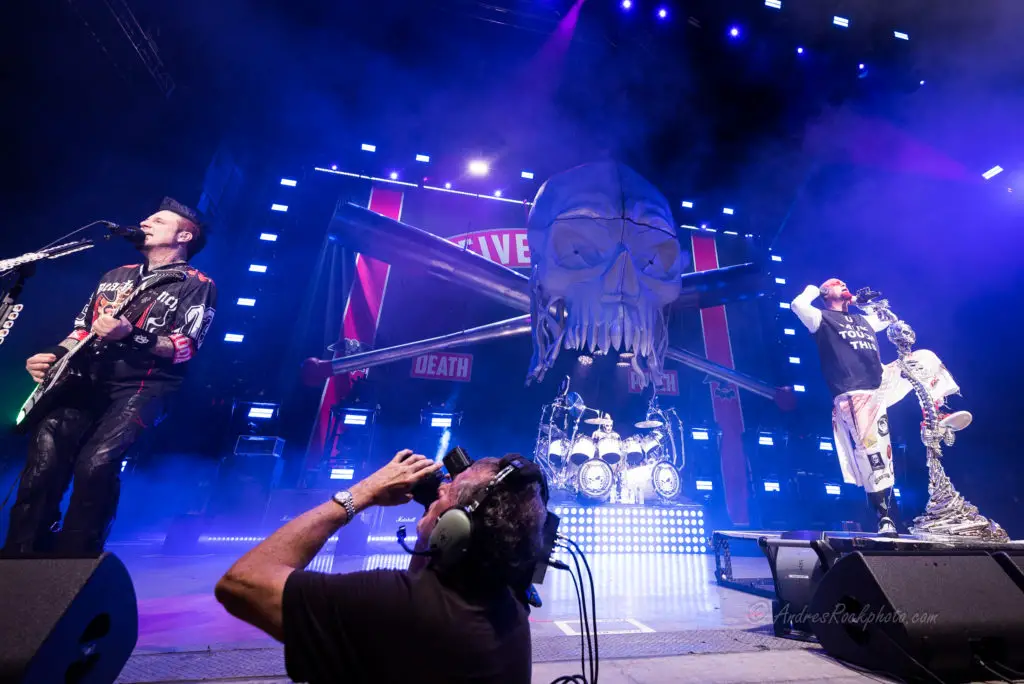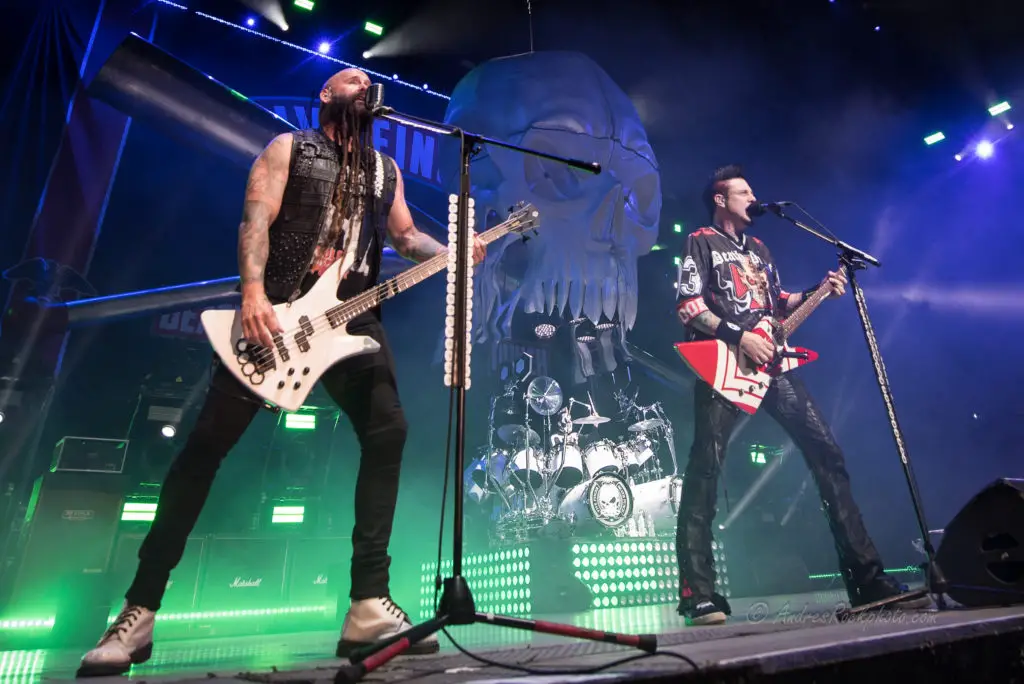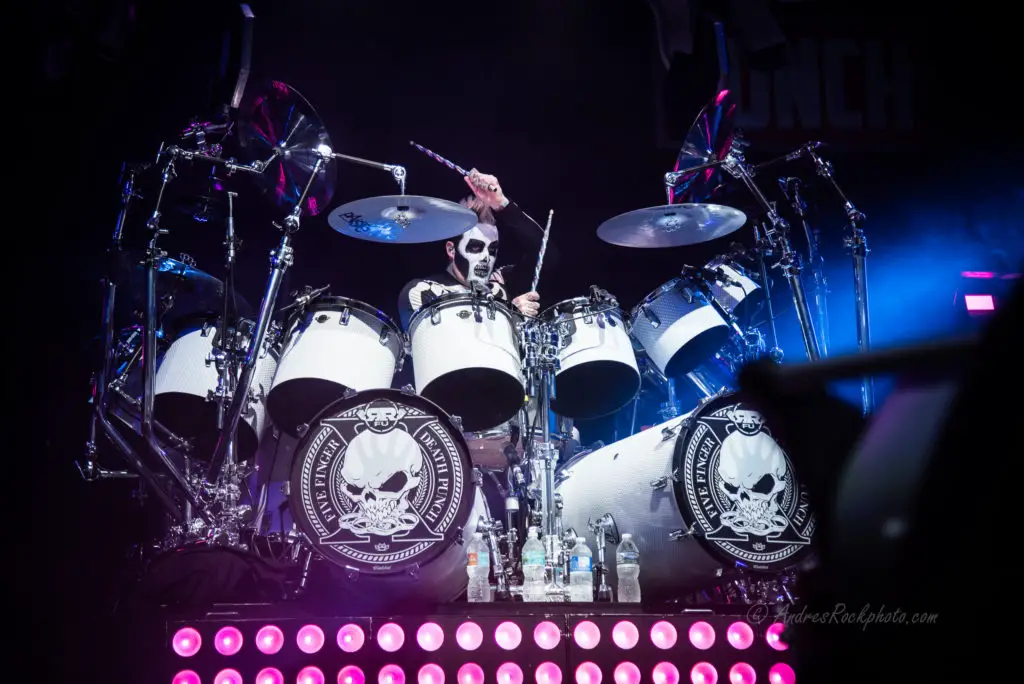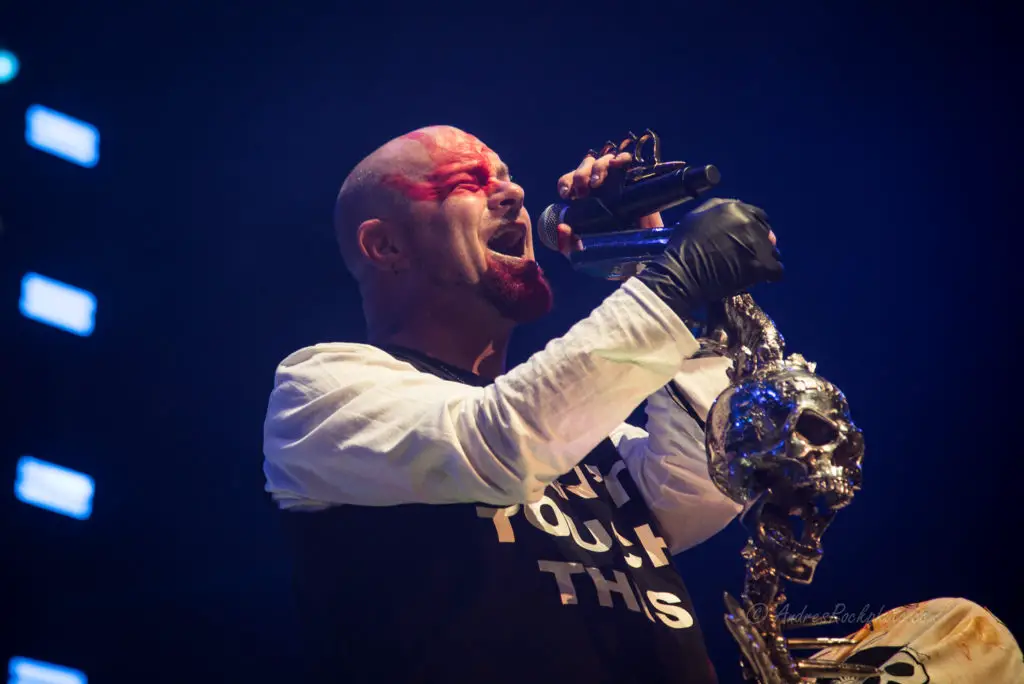 9:45 PM: Breaking Benjamin watched over by the great eye and by the crowd that had patiently waited for their arrival, thundered in with "Red Cold River", the lead single from their sixth studio album Ember (2018). This is the totally reformed band that Benjamin Burnley (lead vocals/rhythm guitarist) put together in 2014 as a rebirthing of the original group. His choice of Keith Wallen (rhythm guitar/vocals), Jasen Rauch (lead guitar), Aaron Bruch (bass) and Shaun Foist (drums) is truly musical artistry. Their sixteen song set (including a medley of the "Imperial March" from Star Wars, "Smells Like Teen Spirit" and Tool's "Schism") was a journey of genre, colour and harmonies. Many of the songs included three members playing guitar (a difficult feat even for those who know it well) and often three, or even four voices. Burney is not the only amazing vocalist in this band. Wallen impeccably sang lead on a number of tunes and Bruch was in all accounts, two separate people/voices in the tune "Believe". "BB" featured other tunes from the new album, "Psycho" and "Torn in Two" but did not miss the standards that the crowd was dying to hear like "Diary of Jane", "Breath" and "Blow Me Away" along with "Never Again", the very first song that the whole band collaborated on.
The amazing energy, sound, lights and pyrotechnics of each band created a cohesive show that benefited the Shiner's Children's Hospitals via a draw for a guitar signed by band members. Everyone left with a 'bigger heart' than they arrived with for so many reasons.