China Asked for a Playlist of Canadian Music. Here's What I Gave Them.
A weird thing is happening in China. After decades of refusing to pay for things like CDs (not to mention aiding and abetting rampant copyright infringement by supporting the biggest counterfeit and bootleg market in the world), the country's music fans seem to be willing to pay for streaming. The ability to conveniently access millions of songs on demand is stomping out piracy in a country known for ripoffs.
Eric de Fontenay runs a project called Canadian Sounds in China which maintains some playlists on a couple of streaming sites. (Here's an example of the kind of stuff they post.) He asked me to put together a collection of Canadian music for sites like Netease Music and QQMusic.
Easy, I thought. But once I started, I realized how difficult this task was. How do you sum of the musical personality of an entire country in just 40 songs? And how deep should I go? I mean, we gotta consider the audience and their knowledge of us, right? Even after spending a couple of hours on this thing, I still wasn't sure whether I got it correct.
Turns out it was pretty popular. On Netease, it ended up with 1,800 followers and 250,000 plays. Nice to see Canadian music traveling well, innit?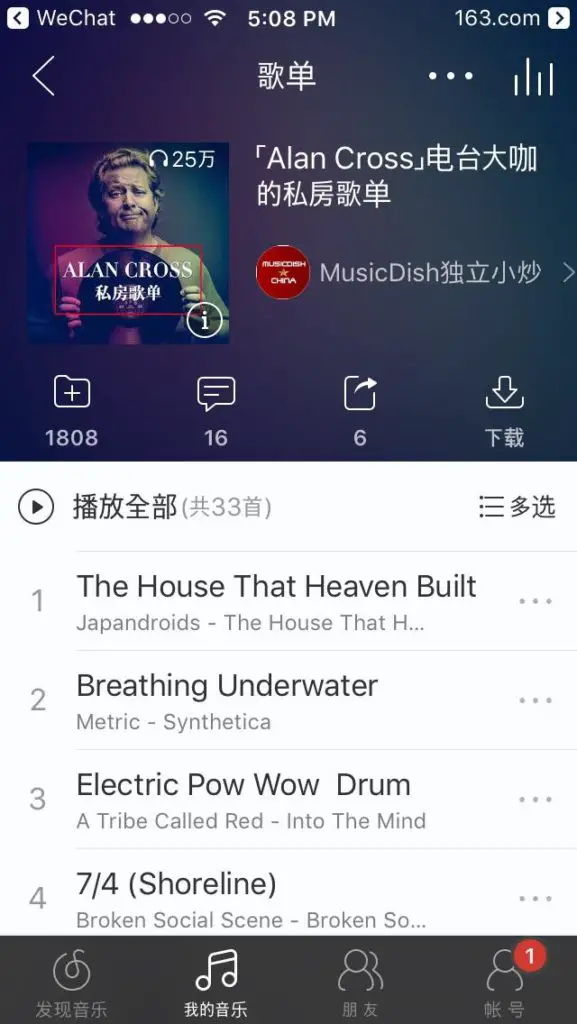 Here's my full list:
Here's my list:
Legends:
Neil Young, Old Man
Rush, Tom Sawyer
Guess Who, American Woman
Bachman-Turner Overdrive, Takin' Care of Business
Bryan Adams, Summer of 69
Shania Twain, Man! I Feel Like a Woman
Tom Cochrane, Life is a Highway
Nickeback, Photograph
Robbie Robertson, Somewhere Down the Crazy River
Gordon Lightfoot, If You Could Read My Mind
Joni Mitchell, Free Man in Paris
Teenage Head, Let's Shake
Leonard Cohen, Hallelujah
Kd lang, Constant Craving
Ian and Sylvia, Four Song Winds
Indie Artists:
Broken Social Scene, 7/4 (Shoreline)
Cowboy Junkies, Misguided Angel
City and Colour, The Girl
Feist, 1234
Metric, Breathing Underwater
A Tribe Called Red, Electric Pow Wow Drum
Dan Mangan
Arcade Fire, Reflektor
Karkwa, Marie tu pleures
Japandroids, House That Heaven Built
And the rest…
Tragically Hip, 50 Mission Cap
Sam Roberts, We're All in This Together
Spirit of the West, Home for a Rest
The Weeknd, Can't Feel My Face
Justin Bieber, Sorry
Drake,
Carly Rae Jepson, Call Me Maybe
Drake, Hotline Bling
Celine Dion, My Heart Will Go On
Sarah McLachlan, Into the Fire