Chris Cornell Laid to Rest in Los Angeles
Say hello 2 heaven.
Chris Cornell's funeral was held today (May 26) at the Hollywood Forever Cemetery in Los Angeles. Judging by the people in attendance, Chris touched a lot of people. Attendees including Brad Pitt, James Hetfield and Lars Ulrich of Metallica, Perry Farrell and Dave Navarro of Jane's Addiction, Dave Grohl and Taylor Hawkins of the Foots, Courtney Love, Pharrell, Tom Morello, Josh Brolin, Joe Walsh of the Eagles, Jimmy Page (Led Zeppelin), Lisa Marie Presley, Billy Idol, Gavin Rossdale, Jeremy Renner, Christian Bale and James Franco.
Morello and Soundgarden bandmate Kim Thayil offered eulogies. Matt Cameron, Jeff Ament, Brad Delson (Linkin Park) and Brolin also offered words of farewell. Chester Bennington sang Jeff Buckley's 'Hallelujah."
Attendees received a program that included a Chris Cornell quote: "We are neighbors in a modern world where proximity is relative and the threshold to our hearts moves outside time and space."
Inside of program for Chris Cornell memorial. Chester and Brad from Linkin Park performed Hallelujah #chriscornell pic.twitter.com/88pAjvdncm

— Denise Quan (@DQ007) May 26, 2017
Chris' ashes were placed next to those of his friend, Johnny Ramone.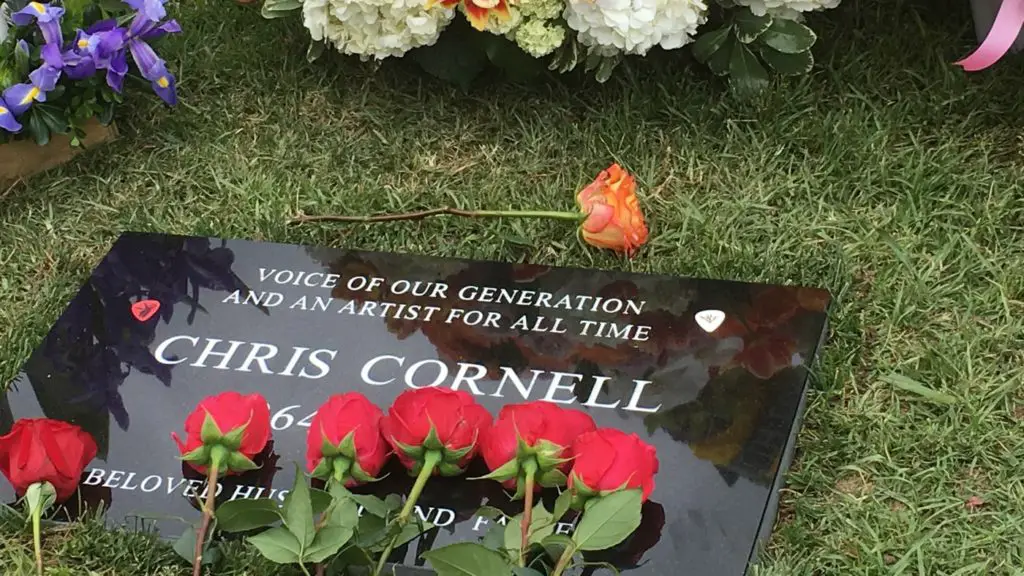 Dozens of fans gathered a respectful distance away, one of them playing Soundgarden and Audioslave songs on a boombox. They were waiting for the public viewing set for the end of the private service. Scroll down for more on the fans who showed up.
Actor #BradPitt rumored to be among mourners @ funeral for #Soundgarden frontman #ChrisCornell right now. #NBC4LA pic.twitter.com/KitUSPMQKk

— Gordon Tokumatsu (@GordonNBCLA) May 26, 2017
Guests arriving to #hollywoodforevercemetary for funeral service for @chriscornell pic.twitter.com/35YfewjV4c

— Jeff Nguyen (@jeffnguyen) May 26, 2017
Actor #BradPitt rumored to be among mourners @ funeral for #Soundgarden frontman #ChrisCornell right now. #NBC4LA pic.twitter.com/KitUSPMQKk

— Gordon Tokumatsu (@GordonNBCLA) May 26, 2017
Cornell buried in Hollywood Forever's Garden of Legends — which a fan renamed "Soundgarden of Legends" for today. pic.twitter.com/9sEptvOY7C

— Denise Quan (@DQ007) May 26, 2017
A picture I edited, Hope you guys like it! #RIPChrisCornell #sayhellotoheaven #noonesingslikeyouanymore pic.twitter.com/mP6q0C9ALX

— VanVann (@VanVann31) May 26, 2017
Billboard talked to some of the fans who were at the cemetery.
The strangest thing about covering a rock star death is that a funeral marks the day where a seemingly omnipresent demigod, someone who appears to defy the limitations of existence by being truly extraordinary, is rendered ultimately human. Despite the much-loved enormity of Cornell's vocal abilities, and the way he roared and ripped through three-plus decades of performance, all that remains in the air here is the sound of birdsong, passing golf carts and moving TV crews. One man has brought an amplifier and guitar to sing material, but is soon politely asked to leave by the cemetery attendants. "People are here to mourn Chris," they tell him.
The silence is palpable. Over by the grave, 50 or so fans are gathered around Cornell's stone, sitting, standing, praying. Some hold their phones, some hold potted plants, some hold their children. A distressed woman sings "Say Hello 2 Heaven" by Temple of the Dog. "I never wanted to write these words down for you, with the pages of phrases of all the things we'll never do/ So I blow out the candle, and I put you to bed…" she sings, in hushed tones, almost hymnal. She wails and weeps. Others follow, as though singing the songs with Cornell for the last time. Nobody can do them justice, of course. As they try to reach Cornell's signature and impossibly high notes, they fail. Suddenly laughter breaks out. Attempting "Hunger Strike" by Temple of the Dog, one guy kicks himself. "I could almost hit it when I was 20," he says. "At 44? No f—ing way!"
Some of the fans know each other, others are meeting for the first time. "I brought an extra set of sunflowers for you. I laid them down," says one woman walking in to greet a long lost friend. "It's funny that I recognize so many of these people from shows. I just wanna see everyone one last time." One man with flowing long dark hair and a beard could pass for Cornell and stands silently with a single red rose in his clutches. They read poems, they comfort each other, they regale in great gig memories. Others are here to try and keep the connection going. One such fan is Michael Libby, 33, a former music journalist. "I had aspirations for a long time of being a professional musician. The courage to pursue a creative path came primarily from Chris Cornell. The thing to me that was most impressive is he was born with a gift — vocal cords. How many people get that lucky roll of the dice and then do what he did with it?" he says, holding back tears.
Read the rest of the Billboard article here. More coverage at People.com and The Daily Mail. There's also this gallery at the New York Daily News.