Christmas Songs That Are Cooler Than the Same Old Dreck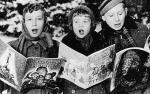 [My column from today's edition of the Metro papers. -AC]
There are better choices than Winter Wonderland. Let us help you find a few for the season.
Chances are your city has at least one radio station that flipped to an all-Christmas format last month. This is a HUGE ratings-getter, especially for those stations that get played in offices and workplaces.
But how many times can a person hear Jose Feliciano sing Feliz Navidad before insanity creeps in? And please, let's not hear any talk of season music from Justin Bieber or Susan Boyle.
So what is a rock fan supposed to do when it comes to Yuletide music? I'm glad you asked.