Chubby Checker Sues over Penis-Measuring App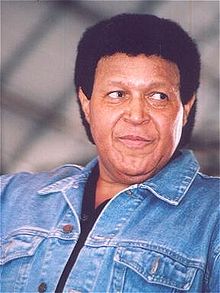 You might have read about The Predicktor, an app that claims to be able to accurate prognosticate johnson sizes. Clever name, wot?
There's a competing app issued by a subsidiary of Hewlett-Packard that goes by the name The Chubby Checker. If you're the guy who invented The Twist, you can see the problem.
Recorded Tuesday morning under Checker's real name, Ernest Evans, the lawsuit claims the name "Chubby Checker" is trademarked by the Ernest Evans Corp. for use in several of the entertainer's business interests.
The lawsuit also claims Hewlett-Packard and Palm maintain the Palm APP Catalog, a web-based store that sells software applications for downloading to Palm smartphones. "The Chubby Checker," according to the lawsuit, has been offered since Oct. 6, 2006.
"Defendants' use of the name 'Chubby Checker' in its app is likely to associate plaintiff's (trade) marks with the obscene, sexual connotation and images," the lawsuit claims, adding that the app is "blurring and tarnishing" the Chubby Checker trademark.
Oh, dear. This wasn't cleared by the HP lawyers, was it?