Clever Move by Pink Floyd When It Comes to Streaming Music
As we move inexorably towards an access-over-possession model for music consumption, there are still plenty of artists who aren't interested in participating because (a) suspicious of streaming music services; or (b) hate them outright because streaming doesn't pay anything close to what they were earning selling records.
Pink Floyd is one of those holdouts. But they're softening up. Sort of.
The band has reached an agreement to end their strike against Spotify if–and this is a big if–fans pull together and stream Wish You Were Here 1,000,000 times. Once that is accomplished, Floyd will unlock the rest of its catalogue.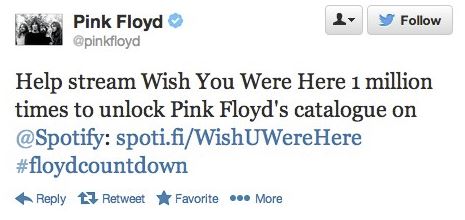 This means nothing to us Canadians, of course, given that Spotify and the powers that rule streaming fees in this country can't come to any kind of agreement.
(Via Digital Music News)