We are now less than three weeks out from Canadian Music Week, the 37th edition of our country's largest festival and industry conference. Running May 6-12, CMW will see hundreds of artists spread themselves over more than 40 Toronto venues including the famed Horseshoe Tavern, Danforth Music Hall, and Phoenix Concert Theatre.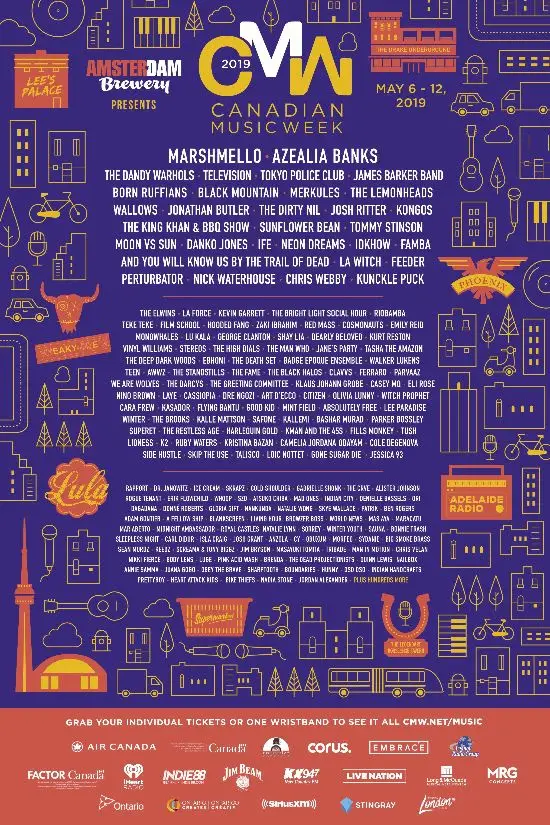 No matter what you're into, CMW has more than enough shows to make an Explorer wristband worth your while. Feel like dancing to some EDM? Marshmello is headlining the iHeartRadio Fanfest at Rebel. Fancy yourself a hip-hop head? Azealia Banks will definitely bring the heat! Old school alt-rock lover? Take your pick between The Dandy Warhols and The Lemonheads. CanCon will obviously also be well represented in the form(s) of Tokyo Police Club, Moon Vs. Sun (i.e. Raine Maida and Chantal Kreviazuk), Born Ruffians at the Jim Bean INDIES, and even pop rockers Stereos reuniting for their tenth anniversary.
Dignitaries will be in full effect for CMW's 3-day music summit, which will feature an opening keynote from radio futurologist James Cridland on that media's outlook in Canada. Among the other heavy hitting speakers who convene at Toronto's Sheraton Centre are Merck Mercuriadis, producer Poo Bear AKA Jason Boyd, 4 Non Blondes' Linda Perry for a Masterclass, Tuma Basa of YouTube, "Chief Aggravation Officer" Bob Hoffman, Lifetime Achievement Award recipient Robbie Robertson, former MLSE CEO turned King of Arenas Tim Leiweke, Scott Cohen and finally Jermaine Dupri on being a Mega-Stardom Magnet. Oh, and some guy named David Grohl will also be there, interviewing his own mother Virginia in a very special Q&A about her book From Cradle to Stage and what it's like raising a future rockstar. Passes are available here, and be sure to check back with me for the ROCKthusiast's day-by-day Best Bets.