Collectible Cassettes? Really?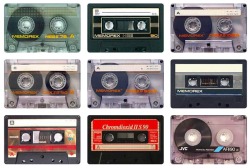 Believe it or not.
Like vinyl, the pre-recorded cassette just won't die. In fact, there are places in the world—like India and Indonesia—where you can still walk into a music store and buy albums on cassette. A couple of years ago, I walked into a shop in Ubud, Bali, and the place was filled with pre-recorded cassettes. And not just old titles, either. Recent releases.
Then there are these hipster labels that keep popping up in the US and the UK that only distribute music on cassette. I don't get that, given that I haven't hooked up any of my cassette machines for years.
And now it's becoming somewhat fashionable to collect rare pre-recorded cassettes. They don't trade for as much as rare vinyl—far from it—but we're starting to see values creep up towards the $100 range.
What makes a cassette collectible? Well, it's early, but in terms of tapes that were sold on the open market, punk from 1979 to 1983 is pretty hot. But if we're talking demos from big bands like Nine Inch Nails or Oasis—both of which have turned up recently on eBay and on collectors' sites—you're looking at hundreds or even thousands of dollars.