Coming TONIGHT in Toronto: THE FORGOTTEN FESTIVAL, a multimedia show about the Canadian show that helped break up The Beatles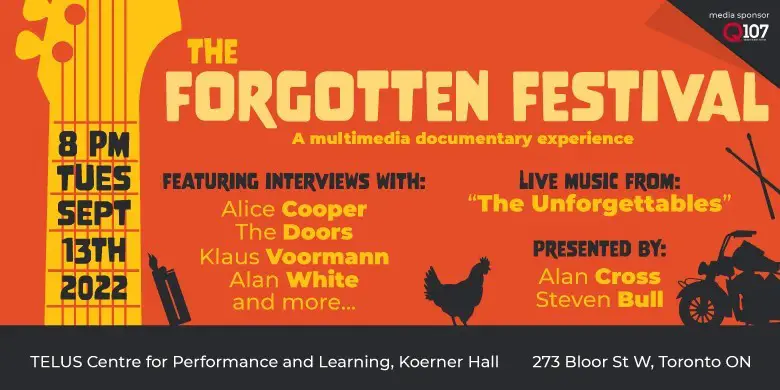 The most famous music festival of 1969 was Woodstock, an event that went on to define a generation. Then there was Altamont, which brought the 60s to a crashing end. But also in the mix was The Great Rock'n'Roll Revival in Toronto, a festival that's largely been forgotten even though it was the thing that eventually broke up The Beatles.
Hold on. Back up.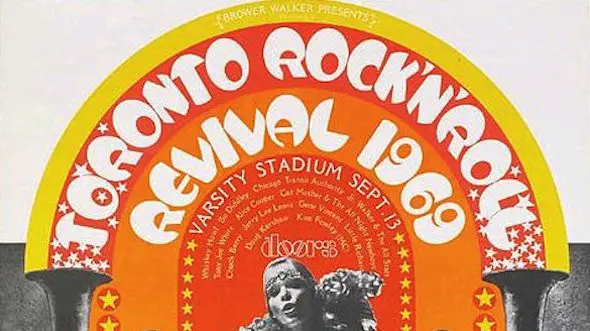 Toronto promoter John Brower got caught up in festival fever earlier that summer, putting on Toronto Pop Festival '69 which featured new acts like The Band, Steppenwolf, and The Velvet Underground along with Sly & The Family Stone, Blood Sweat and Tears, Johnny Winter, and about a dozen others. It went well enough for Brower to try it again in September.
Based on a similar show held in Detroit late that summer, Brower brought in The Doors, a new group called Alice Cooper (the singer was still known as Vincent Furnier), Chicago (still called Chicago Transit Authority), and a long list of original rock'n'roll stars: Chuck Berry, Jerry Lee Lewis, Gene Vincent, and Little Richard.
It was an expensive undertaking. To make matters worse, music fans didn't care. Advance ticket sales were awful. And Brower's original backers, George and Thor Eaton (yes, the department story people) pulled their funding, forcing Brower and partner George Walker to seek, er, alternate funding. And those funders were getting impatient, too.
Kim Fowley, the weirdo producer who had been hired to be MC for the day, had a radical, insane suggestion. "We need a new attraction. Why not call up John Lennon? This festival is packed with his musical heroes. I'll bet he'd love to come!"
Desperate, Brower gave it a shot. At 6:30 am Toronto time on Friday, September 13th–the day before the festival–he made a last-ditch call to Apple Records HQ in London. Lennon happened to be in the office and took his call. He was in.
But as soon as Lennon hung up the phone, he realized he had a problem. He was terrified of playing live in Toronto. It would be the first time he'd played before a large audience since 1966 and the first time ever he's performed without his bandmates. Still, his heroes were performing and he'd made a promise.
Cobbling together a band (Eric Clapton, future Yes drummer Alan White, bass player and artist friend, Klaus Voorman, and wife Yoko Ono), they drove out to Heathrow and found some first-class tickets waiting for them. Rehearsals took place at the back of the 707 cabin. Klaus Voorman created this image that captured the scene.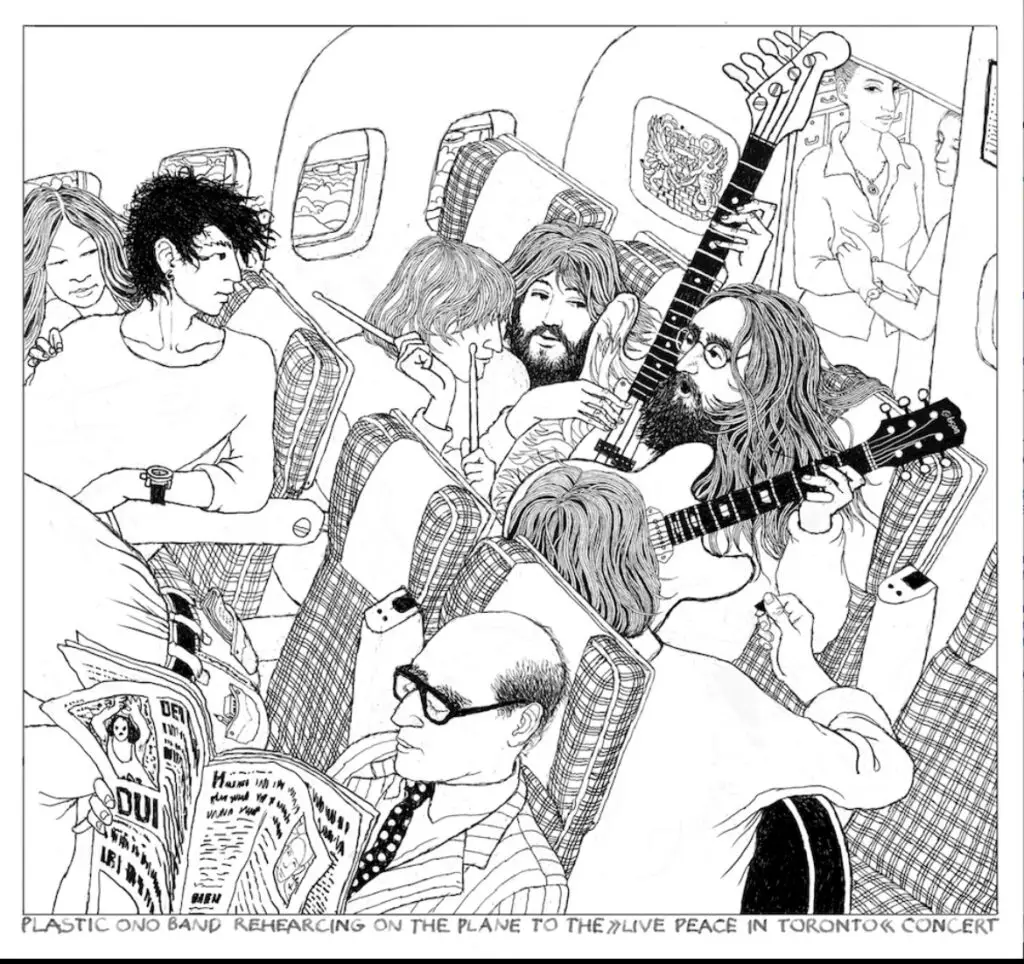 The set almost never happened because Lennon's stage fright nearly got the best of him. But things ended up working out very, very well. "I haven't felt so alive in years." Later Lennon said, "The buzz was incredible. I never felt so good in my life. Everybody was with us and leaping up and down doing the peace sign because they knew most of the numbers anyway, and we did a number called Cold Turkey we'd never done before and they dug it like mad."
It had gone so well that John realized that he didn't need the rest of The Beatles. At a band meeting later that September, John announced that he wanted to leave The Beatles but would stick around through the release of Abbey Road (set for September 26) and the final touch-ups for Let It Be. But he was definitely done.
Everything stayed quiet until April 10, 1970, when McCartney announced via a press release that he'd left The Beatles. The truth, however, is that John had made the first move–and that it was precipitated by a impulsive decision to play live in Toronto. (I've written more about that whole episode here.)
But there's more to the story of The Great Rock'n'Roll Revival, too, much of which will be unearthed during a one-night-only performance called The Forgotten Festival.
The Alice Cooper Chicken Tragedy
Alice Cooper was still a relatively unknown band out of Detroit. For reasons that are unclear, they were traveling with a couple of chickens named Larry and Pecker and treated them like pets. According to bass player Dennis Dunaway's memoir Snakes! Guillotine! Electric Chairs!: My Adventures in the Alice Cooper Group, had come up with an idea after a gig at the Eastown Theatre in Detroit.
"One of Glen [Buxton's] guitar parts reminded me of cackling chickens," he wrote, "so I though it would be funny to have a couple of them roosting on top of his amp. Thanks to our incredibly crew and a guy named Larry, we made it happen. The chickens would appear out of nowhere and pose on Glen's amp. The idea worked so well that we had to take our fine feathered friends on the road. Glen kept them in the bathroom of our hotels where they had plenty of food, water, and attention."
At the Toronto show, Alice pulled Pecker out of a pillowcase and tossed him in the air. As God was his witness, Alice thought chickens could fly. Pecker "flailed down into the crowd where he was pulled apart."
The myth became that Alice had bitten the head off the chicken and fed its guts to the crowd. Frank Zappa, who was in charge of the band's label at the time asked if they'd killed a chicken onstage. When told they didn't, Frank said "Well, don't tell anybody. Everybody loves it. You are the most notorious character of all time now."
The Tradition of Holding Up Lighters at Shows
John Lennon was so freaked out by having to perform in front of a crowd–the heroin withdrawal wasn't helping, either–that he almost never set foot onstage. It was Kim Fowley's idea to create a calming vibe by asking the audience to hold their lighters in the air to make it look like Varsity Stadium was filled with thousands of candles. It worked–and it became a rock tradition.
Steven Bull, a Toronto journalist, has long been fascinated with what actually happened at the Great Rock'n'Roll Revival. He tracked down as many of the players from that day to get their stories. That includes Klaus Voorman, John Densmore of The Dolls, Alice Cooper (gotta get the chicken story set straight) and, er, me.
Everything will be presented as The Forgotten Festival in a multimedia presentation at The Royal Conservatory in Toronto this Tuesday (September 13–fifty years ago to the day of the show), starting with a cocktail reception and then the show. The Unforgettable will serve as the house band for the evening, going through some of the songs played that day. Get your tickets here.
If you would like a chance to win a signed-and-number print of the Voorman artwork along with a pair of tickets to the show, post "Voorman Print" to Twitter with the hashtag #ForgottenFestival." Deadline is 11:59 pm Monday night. I'll make a random draw and let the winner know.
UPDATE: Congratulations to RUSS STYLES. He's the winner of the print.