Coming up: A panel on the intersection of cannabis and music.
Gee, you think music and cannabis share space? Duh. But with legalization in Canada, we can talk more about what the two have in common and, more important, how they can help each other beyond lighting up a sativa spiff hoping for some kind of songwriting inspiration.
As part of Canadian Music Week's presents virtual voices series, I'll be hosting a panel called "The Intersection of Cannabis and music." I quote:
CMW is excited to welcome partners of recently launched cannabis brand LOOP/POOL, who join music journalist Alan Cross for a discussion about the ways in which music, the artist experience and cannabis converge in Canada, the first major country to federally legalize recreational cannabis. We also use this conversation as a chance to hear from the artists themselves about how they are adapting, reacting and rethinking how they build their careers and engage with their fans through these times of uncertainty.
LOOP/POOL is an artist co-owned cannabis brand who's committed a minimum of 5% of proceeds to give back to and support emerging Canadian artists. The company is co-owned by seven major Canadian artists including; Our Lady Peace, Blue Rodeo, Stars, Felix Cartal, Kiesza, dvsn and Roy Woods. These 7 artists, representing 7 different genres, are united in building LOOP/POOL's singular mission and message – #SupportCreators.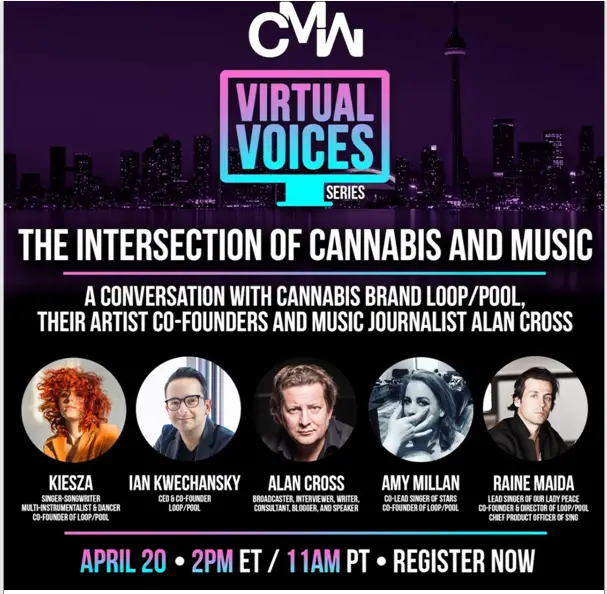 Register here.