Comparing Ticket Prices from The Old Days vs. The Reunion Tour
Cam Gordon spent a lot of time sorting through the archives of NOW Magazine to come up with this chart that compares what bands used to charge for a concert ticket before they broke up and what tickets sold for when the reunion tour was announced.  'Course, these prices don't factor in the rate of inflation, but it's still interesting.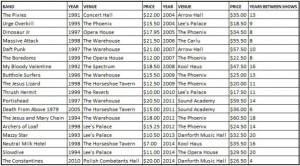 Cam also crunched the numbers in a couple of different ways.  Go to Completely Ignored for more.