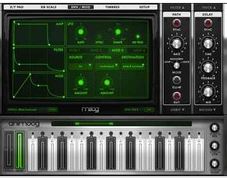 Sixty years ago, electronic keyboard synthesizers were so big that they filled entire rooms in places like university campuses. "Portable" versions were literally transported on rail cars. They also cost more than the GDP of some countries.
Today, though, electronic instruments are cheap, powerful and completely portable. If Bob Moog were still alive, he'd marvel at what's become of his invention.
The company he founded, Moog Music, has just released an iPhone/iPad app called Animoog. And for a dollar–ONE DOLLAR–this thing can do far, far more than any of the original Moog synths that came out in the 60s and 70s. (That's for the iPhone app; the one for the iPad is $9.99.)
And buy now because the price will soon go up to $30. Why wouldn't you want one?