Cool Indie Gig in the Ontario Countryside This Saturday
Here's where I'm going to be on Saturday.  If you're in southern/central Ontario and you fancy a drive to the picturesque town of Elora, make sure you find me and say hi.  And the weather is supposed to be perfect!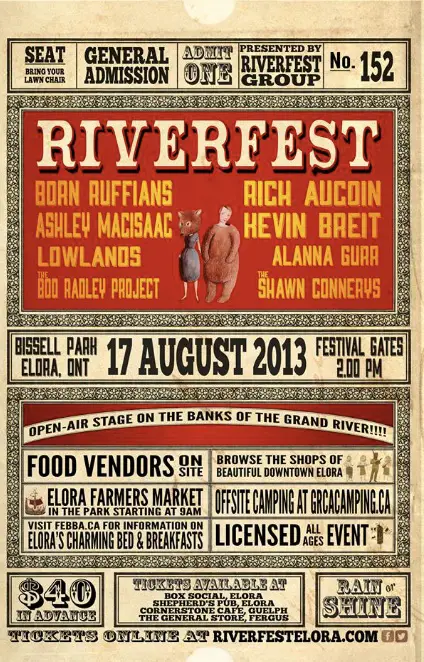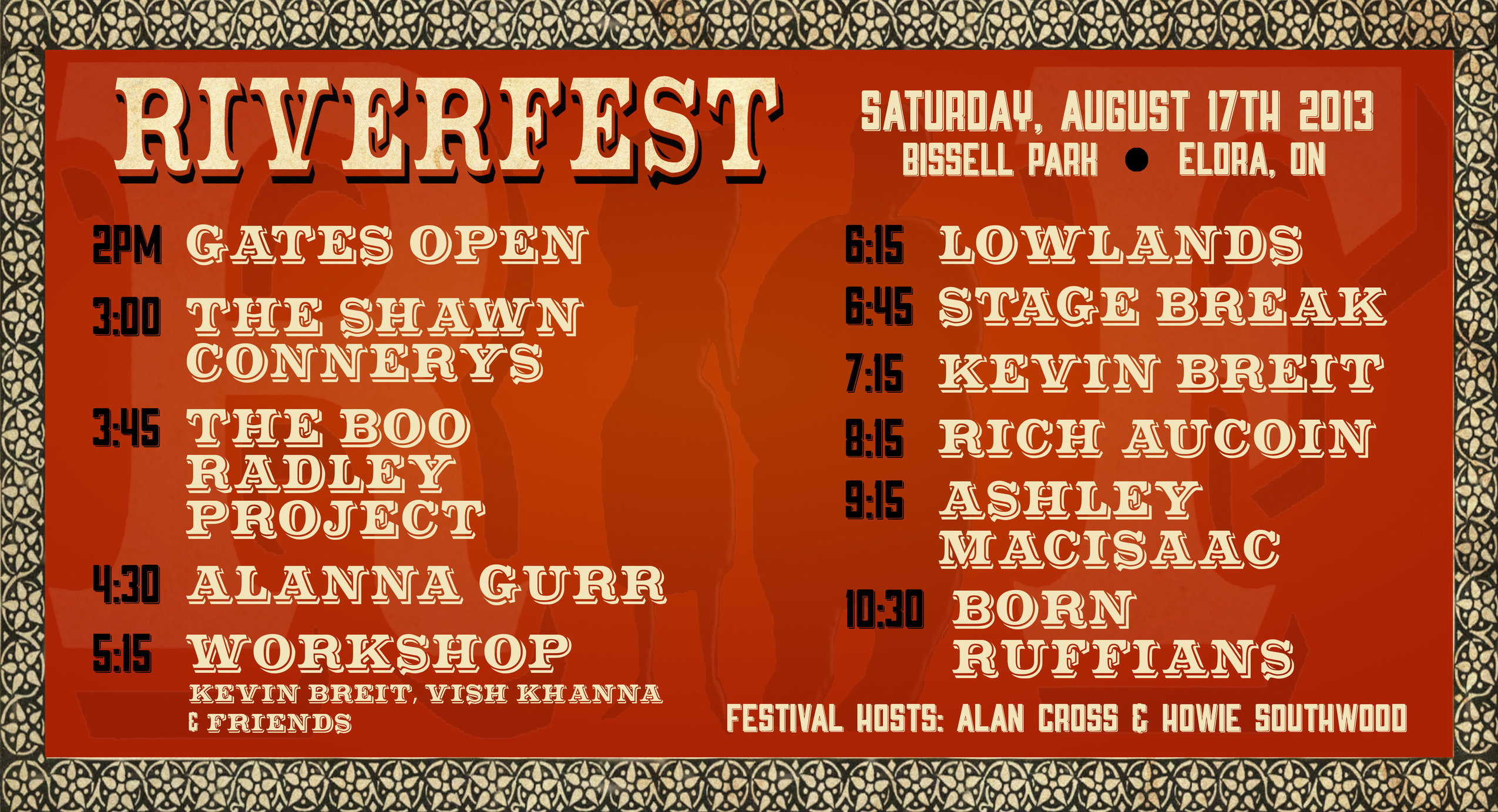 ASHLEY MACISAAC, BORN RUFFIANS, RICH AUCOIN HEADLINE RIVERFEST ELORA THIS SATURDAY
Fifth annual day-long music celebration hosted by Alan Cross, includes Kevin Breit, Lowlands, music workshops, art & more
Legendary Celtic fiddler Ashley MacIsaac, eclectic indie rockers Born Ruffians and experimental pop star Rich Aucoin headline the 2013 edition of Riverfest Elora, this Saturday, August 17th. Internationally respected music journalist Alan Cross will host Elora's annual celebration of music and community at the town's scenic Bissell Park.
This year's line-up includes renowned Cape Breton fiddler, pianist and step dancer Ashley MacIsaac. MacIsaac's music combines traditional Cape Breton style with a new age rock, hip-hop and roots influence. MacIsaac made himself a household name with the release of his 1995 album, Hi, How Are You Today?. He has since sold over half a million records. MacIsaac will perform at 9:15PM.
Saturday's line-up also includes one of Canada's most exciting indie bands, Born Ruffians. The Toronto-based band has spent the past year touring in support of their third studio album, Birthmarks. Their unique blend of pop/indie rock and their ability to craft an infectious music has earned the band worldwide acclaim. Born Ruffians will perform at 10:30PM.
Rounding out the headliners is Halifax experimental pop superstar Rich Aucoin. Aucoin has spent the past year bringing his legendary live show to festivals around the globe. The typical Rich Aucoin show includes a mosh-pit under a giant multi-coloured parachute, a surfboard which Aucoin uses to "crowd surf" and interactive video projections. Aucoin will perform at 8:15PM.
The evening portion of the event will be hosted by Alan Cross, one of the nation's foremost music journalists. Cross has interviewed some of the biggest names in music, including U2, David Bowie
and Pearl Jam. He is best known as the host of the celebrated radio series, The Ongoing History of New Music. Cross's writings, recordings and blog provide a comprehensive resource to alternative music and its history.
The afternoon of the festival will spotlight the talents of the local music community. This includes a performance by renowned sessional guitarist, Kevin Breit (7:15PM). In addition to his solo performance, Kevin Breit will be co-hosting a music workshop with music writer/broadcaster Vish Khanna, which will include members of Born Ruffians, Lowlands, afternoon emcee Howie Southwood and more (5:15PM).
The afternoon also includes performances from Guelph-based folk band Lowlands (6:15PM), songstress Alanna Gurr (4:30PM), alterna-funk collective The Boo Radley Project (3:45PM) and Elora- based rockers The Shawn Connerys (3:00PM). The afternoon will be hosted by Howie Southwood, of the bands Rawlins Cross and the Potion Kings.
Riverfest Elora is an all-ages licensed event. Wine, beer and food will be available for sale, provided by local restaurants and shops. Local art will be showcased by vendors in the inaugural Artisan's Alley. Lawn chairs and blankets are highly encouraged. There will be no parking located on site at Bissell Park during Riverfest Elora. Festival goers are encouraged to park their cars and walk to the site. Parking locations and more festival information can be found online at www.riverfestelora.com.
Tickets for Riverfest are $40 in advance or $45 at the door, free for children under 12. Tickets are now on sale. They are available for purchase online at riverfestelora.com and in-person at the Shepherd's Pub, Box Social and Dar's Country Market in Elora, the General Store in Fergus, and The Cornerstone in Guelph. All tickets purchased at the gate are cash only; there will be no ATM onsite.
Doors open at 2PM, with local music kicking off at 3PM, rain or shine.
Riverfest Elora is the town's annual celebration of community and music. The festival was founded by Elora artist Marilyn Koop in 2009. Koop passed away last year and the festival continues in her memory. For the latest updates, visit riverfestelora.com or become a fan of Riverfest on Facebook (facebook.com/riverfestelora) and Twitter (twitter.com/riverfestelora).
For more information, please contact: Haydn Watters
519.846.2685 [email protected]
About Riverfest Elora –
Riverfest Elora, the town's annual celebration of community and music, was founded in 2009 by artist Marilyn Koop. The festival, which was initially held as a fundraiser on the grounds of the Elora Centre of the Arts, has moved across to street to its new home at the picturesque Bissell Park, on the banks of the Grand River. Now in its fifth year, Riverfest Elora has brought an array of musicians to the small village, including Cuff the Duke (2012), The Wooden Sky (2012), Rawlins Cross (2009), Prairie Oyster (2010), Dala (2010) and Danny Michel (2011). Riverfest founder Marilyn Koop passed away in April 2012. The festival continues for its fifth year in 2013 in her memory. More information can be found online at riverfestelora.com.