Cool! The Speaker That You Actually CLIMB INSIDE!
Since the dawn of speaker technology, we've been expect to sit in front of speakers and let the music wash over us as it comes out of these boxy enclosures. Advances such as Surround, Dolby 5.1 (and behind), DSP and THX have made the audio experience more immersive, but it still involves having soundwaves projected at us.
But not anywmore. A company called Studio Total has created the AudioOrb, the speaker system that you actually climb into.

The Orb features 18 speakers inside what they called a Cocoon. All the speakers are surrounded with Tempur pillows, giving you a place to lie down while also blocking out most exterior noise.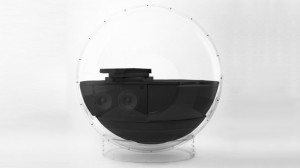 It's expensive–$15,000—and only two have been made (pending more Indiegogo investment) but wouldn't you like to give one of these things a try? And what music would you choose?