Could "Car Tones" Be Next?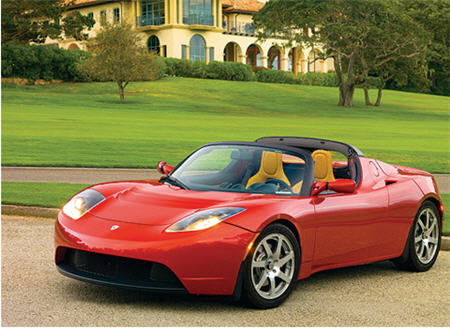 Not long ago, I was almost injured at an airport.  An employee was speeding through the concourse on a golf cart in the same direction I was walking.  As he approached from behind, he barely missed me as I moved from one side of the hallway to the other.  
I never heard him coming.  Between the ambient noise of the airport and the near-silence of the golf cart, I had no warning of any potential splattering.
This got me thinking about electric cars.  A Prius is quiet enough, but what about the incoming flood of all-electric vehicles?  Cats make more noise than these things.  
There's a guy in my neighbourhood who has a Tesla Roadster.  The thing is damn quick but all you hear is the subtle whine of the motor and some tire noise.  No exhaust roar, no barking gear changes.  It's even more eerie when he calmly cruising through residential streets and pulls to a stop.  Total silence.
The benefits of electric cars far outweigh the downsides.  But they are dangerously silent.  If you're a pedestrian, a cyclist or a dog, you can't hear them coming.  
This is where "car tones" come in.  Ford (among others) is researching what sounds an electric car should make.
Here are two of my favourites.  First, the fighter jet:
 Second, the teleporter:
This is a good start.  I'd also like to request the following:
 Millenium Falcon
PeeWee Herman's bike
A Battlestar Galactica Colonial Fighter
Ferrari 458
A 747-400 at maxium takeoff thrust.