Could There Be More (WAY More) to the Pussy Riot Situation Than What's Being Reported?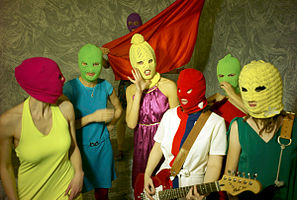 While most of the world outside of Russia seems to have sided with Pussy Riot in their battle with Vladimir Putin and the Russian Orthodox Church, could there be more to what's being reported?
Specifically, is Pussy Riot being used/financed/encouraged by "foreign interests" as the prosecution alleged during the trial?
Maybe. Or maybe this whole thing is dangerously close to universe of whacko conspiracy theorists. Still, the situation is worth deconstructing.
I had a chance to do a little reading over the long weekend and what I've found is thought-provoking–at least at some level. Just sayin', you know?
Item: Western Hypocrisy Western nations who profess support for Pussy Riot don't always practice what they preach when it comes to protest and dissent. Here's an interesting point of view on how the West jails people for stunts similar (or milder than) what Pussy Riot did in Moscow.
Item: Is the US State Department Involved? Could it be that Pussy Riot is being used as a tool in proxy war against Putin? The Cold War lives on.
Item: Is Pussy Riot Being Financed by Russian Interests Abroad? On the No Agenda podcast (you can hear things for yourself starting at about 1 hour and 15 minutes into the podcast), an email from a listener ("an informant from Russia") offered these tidbits:
The people who make up Pussy Riot are from an artists collective/movement who are known for holding interesting protests including having sex in a museum and the "Paint the Dick on a Bridge" initiative (for which they won an award from the Ministry of Culture).
Some Russian columnists believe that Pussy Riot is being financed by Boris Berezsovsky, an oligarch who has fallen out of favour with Putin and is now hiding out in the UK.
It's also possible financing is coming from Ukrainian Femen, another artist collective who have their own interesting agendas.
Previous Pussy Riot protests in places like Red Square resulted in tiny fines ($15). Why the big hullabaloo now? Could this be a concerted effort to divide Russia over the influence of the Church?
Is any of this true? Hell, I don't know. But it's interesting, no?