Counting Chili Peppers' Guitarists
Quick: name everyone who once played guitar for the Red Hot Chili Peppers. Go! Hillel Slovak was first but he left for a couple of years and was replaced by Jack Sherman. But then Hillel decided he wanted to come back, so Jack was out.
Then Hillel ODed and died, so DeWayne McKnight was brought in. He didn't last very long and was soon replaced by John Frusciante.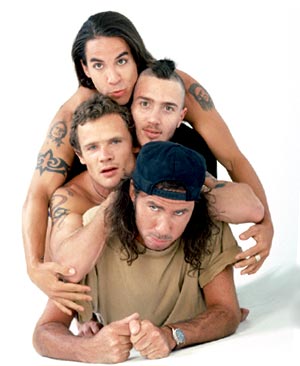 John stayed with the Chilis for a couple of years before he quit and a dude named Zander Schloss filled in. He was followed (briefly) by Arik Marshall and Jesse Tobias.
Then Dave Navarro—who had nothing to do because Jane's Addiction was dead at the time—joined up for five years.
But he didn't really like the gig and his departure coincided with the return of John Frusciante. He stayed on until 2009 when he was replaced by Josh Klinghoffer, who is the current guy. If you're counting, that's almost 30 years of Chili Peppers and nine guitarists—and two of those guys joined up twice!