Has Courtney Love Found MH370? (No Joke, People)
My fanboy love to civil aviation has me completely obsessed by the disappearance of Malaysian Airlines Flight 370.  Along with a couple of like-minded friends, I've so far spent hours pouring over every article I can get my hands on about the flight, the search, the pilots and the theories about what may have happened.
Courtney Love is fascinated by this, too.  Using a satellite imaging site called Tomnod, she and thousands of others have been scouring the ocean around the Malaysian Peninsula for signs of…well, anything.
Examining images of the Straits of Malacca, she (among many others) found what appears to be…what? An oil slick? A debris field?  She published this photo on her Facebook page.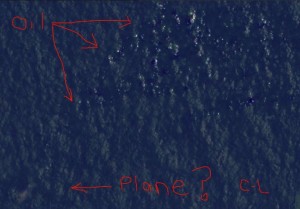 There are also reports of people seeing what appears to be "floating suitcases."
The coordinates are 5°39'08.0″N 98°50'38.0″E.  Search teams are on their way.  (Pamela Chelin contributed to this story.)