The Craziest Turntables of All Time
What is a turnable? A platter, a base, a tone arm and a cartridge, right?  Well, maybe for the beginner, the newbie, the amateur. The Vinyl Factory has come up with a list of eight turntables that are among the most eccentric mechanical creations I've ever seen.
For example, say hello to the Da Vinci AAS Gabriel MK2.
Yes, this thing is designed to play albums one at a time. How much? Just over $112,000 CAD.
But if that's not enough, then you need the Transrotor Arbus.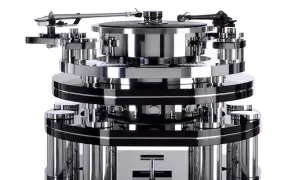 This Danish creation can be yours for just $168,000 CAD.