Creepiness Alert: Bloodletting and Musical Voices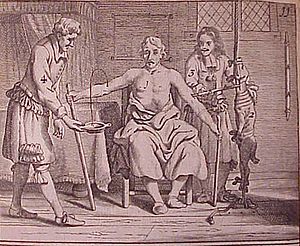 You can find anything on the Internet.  There are entire communities devoted to the study of surgery in the days before anesthetic.
Wait!  Come back!
One site–The Chirurgeon's Apprentice–offers this description of the practice of bloodletting:
Bloodletting 'clears the mind, strengthens the memory, cleanses the stomach, dries up the brain, warms the marrow, sharpens the hearing, stops tears, encourages discrimination, develops the senses, promotes digestions, produces a musical voice, dispels torpor, drives away anxiety, feeds the blood, rids it of poisonous matter, and brings long life'. 
WTF?  Can you imagine going to a doctor during those dark days?
Thanks to Dori for this.  I think.