Creepy (and Exploitive) Kurt Cobain Souvenirs for Sale
Kurt Cobain's last earthly address was 171 Lake Washington Boulevard East in Seattle.  Right next the house is a tiny bit of green space called Viretta Park which sports a couple of benches. From the moment he died, that park and those benches became a bucket list destination for hardcore Nirvana fans.
Many visitors took the opportunity to scrawl messages over on the wood slats of those benches.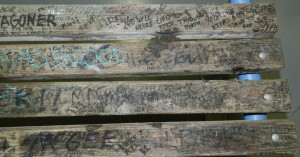 The original slats became so marked and scratched up that they had to be replaced in 2008.  And rather than ship then to a landfill, they're being sold.
Hamilton's Antique & Estate Auctions in charge of everything.  The description reads:
2 pc. Graffiti signed, unofficial memorial park benches for Kurt Cobain, from Viretta Park, which was a tribute to the late Kurt Cobain, the lead singer of the Seattle bank Nirvana. These slats were saved from the landfill on 8-22-08 & rebuilt on similar bench pipes for display. These iconic benches have numerous messages by loving fans & tourists alike. These benches were/are featured in several Seattle magazines & guides. The pipe benches are still located in the park, however they have new wood in place. This is truly a rare find in music.
As I write this, the bidding is up to $230.  Fill yer boots.
(Via AV Club)