Daft Punk + Jonathan Ross = Arcade Fire?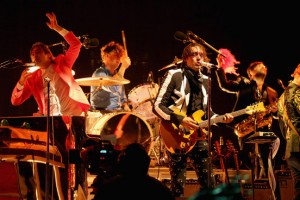 So what happens at Coachella when Arcade Fire comes to close things out?
A little mayhem apparently!
First off you have an appearance by legendary BBC interviewer Jonathan Ross. More bizarrely, Daft Punk shows up for a laid back rendition of Get Lucky. Well. Not quite the ACTUAL Daft Punk. Win Butler from Arcade Fire arrives asking what is going on. All good fun from the little band that grew from Montreal!
Of course there were those who actually thought it was Daft Punk. I'm sure they'll get the joke eventually.