Damn the Man! Save the Amoeba!
Word started trickling around Monday night that Amoeba Records might be losing its home in Hollywood.
The legendary record store is heaven for music nerds. It's a massive building with multiple floors of records, CDs, tapes, T-shirts, movies, plenty of space for in-store performances and album release parties. (I met a friend there last summer and we spent two hours browsing, easily. It was a truncated stint because we hadn't seen each other in seven years and we had catching up to do.)
It's one of those places that's more than just a record store; it's a community gathering place, an iconic establishment to music, a church for those who worship at the altar of rock or punk or country or metal or jazz or classical or anything with something resembling a beat.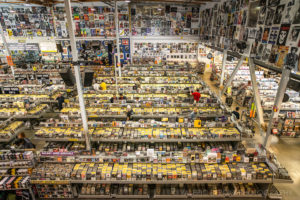 The initial story was this: Paul Resnikoff of Digital Music News said Monday night that the store on Sunset Boulevard would be facing the developer's kiss of death in favor of new condos (gah) and the building actually sold a year ago for a staggering $34 million. That's $34 million for a 44,616 square foot lot upon which one of the best music stores in the US lives.
LAist is actually the publication to uncover this terrible bit of news.
Julia Wick wrote there on Monday that "GPI Companies, a real estate group, could be planning to raze the famous building, 'pave' vinyl paradise, and put up a 20-something story tower monstrosity, complete with a massive rooftop pool."
Here's the proposed development.
Sure, it's pretty…but where's the soul?
Wick continues: "After several calls to GPI, Katie Bazjatt, an office manager, told LAist in an email that 'at this time, we have not yet made an application with the City and are not certain whether we will. We have no other information at this time.'"
Rick Sanchez, a manager at Amoeba, put the paper on hold to speak with Jim Henderson, one of the co-owners. "Sanchez told us that neither he nor Henderson had any information on the plans," Wick writes.
The good people at Amoeba—which has two other locations, in Berkeley and San Francisco—were quick to respond on social media, saying the store isn't going anywhere for the near future at the very least.
You may have read an article today about us… pic.twitter.com/18l9zRPGMn

— Amoeba Music (@amoebamusic) September 13, 2016
On Tuesday, after a sleepless night pondering the future of commerce and whether record stores might be dying and should just give up now so we can make our peace with buying digital downloads and never again being introduced to new music by a person whose very life is made better by finding new bands to talk about with strangers, the LA Times published an article featuring commentary from Cliff Goldstein, a managing partner at the aforementioned GPI.
"Amoeba owned the property. They decided to sell the property. We purchased it," he said. "We intend to make an application to redevelop the property. At the same time, we're talking to Amoeba and have a great relationship with them. We're talking to them about a longer-term commitment to remain. We're open to those discussions, and we're having those preliminary discussions with them."
While he affirmed that GPI does not HAVE a long-term lease with Amoeba today, he also said his company is open to that possibility. But, should a long-term lease work out with the record store, it would "change what we would intend to do. They have a number of years left on their lease and we are having discussions with them."
The store might be safe for now, but it's tentative. Where would Amoeba relocate? WOULD Amoeba relocate?
Dear guardians of Rock 'n'Roll Heaven, you've already taken so many brilliant people from us this year. Please, for the sake of all things holy, don't add Amoeba Hollywood to your 2016 list.