Daughter of a Mexican Drug Lord Wants to be a Pop Princess Using Daddy's Logos
I'd never heard of Melissa Plancarte until this morning but it turns out she's the daughter of Enrique Plancarte, one of the most wanted men in Mexico and head of the Knights Templar drug cartel.  They are at war with the police, the army and any number of vigilante groups.  Plancarte has a $1 million bounty on his head.
Melissa sings banda, which is a type of Mexican folk music and has had some success.  Her brother, Enriquie Jr., is also a singer.  Both have used social networks to spread the word of what they do.
Here's the problem.  Take a look at Melissa's latest selfie:
So what, right?  Not really.
Those red crosses are the ancient symbols of the Knights Templar, the same religious order after which Daddy has named his cartel.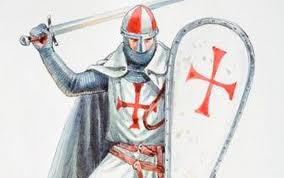 So Daddy's little girl is using the same symbols that Daddy does in his murderous day-to-day business?  Um…
It gets weirder and more sinsister, too.  Read on at Vocati.com