Dave Grohl Falls Off Stage, Breaks Leg, STILL FINISHES SHOW! (Now with Video of the Fall and the X-Ray That Proves It)
On Friday, June 12, the Foo Fighters played a gig in Gothenberg, Sweden, Dave Grohl lost himself in the performance of "Monkey Wrench" and walked off the stage. And he fell hard, breaking a bone in his leg. During the second song, no less.
You can't see Dave in this clip, but he's hanging on to the mic.
But did he bail on the crowd? Hell, no! The f**kin' show must go on!
After a period of time where Taylor Hawkins led the band in a series of covers, Dave was rolled back onto the stage with his leg all bandaged up. He finished the gig sitting in a chair–but he finished it. As they say in Sweden, "Det kallar jag en riktig rockstjärna!" ("That's what I call a real rock star!") No shit.
And this wasn't some act. Here's a tweet of the x-ray.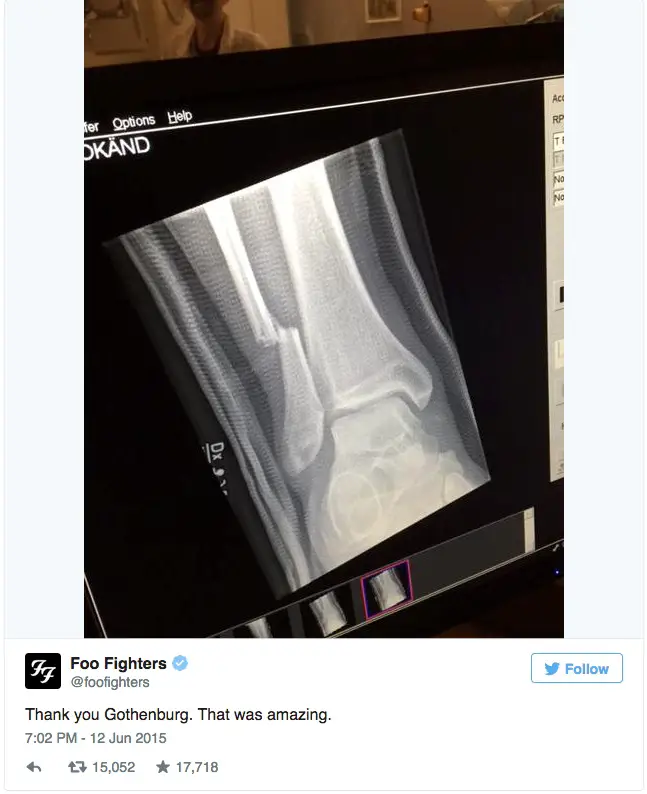 That's a broken right fibula, correct?
Two shows are now cancelled. Here's the press release:
DAVE GROHL'S BIG BREAK
June 14 Pinkpop Festival & June 16  St. Gallen, Switzerland Shows Cancelled
As witnessed by tens of thousands in attendance at Foo Fighters June 12 show at Ullevi Stadium, Dave Grohl took a nasty spill during the second song of the set. With the help of on-site medical staff who patched him up temporarily, Dave was able to rejoin the band to complete that performance.
While the full extent of Dave's injuries are still being determined, it was confirmed at a post-show hospital visit that he sustained at least one fracture.
As a result Foo Fighters have been forced to cancel their June 14 appearance at the Pinkpop Festival as well as their June 16  show at the AFG Arena in St. Gallen, Switzerland.
Fantastic. I'm heading to London Wednesday night to see the Foo Fighters at Wembley Stadium on Friday the 19th. The weekend after that is Glastonbury. That leg better heal fast.
More at Loudwire, CNN and The Daily Mail.
BONUS SURVEY: That's two rock stars who have fallen off a stage so far this season: The Edge in Vancouver and now Dave in Gothenberg. Who's next? (We might want to count Florence Welch who jumped around so much at Coachella that she broke a bone in her foot. She had to finish the rest of the gig in a chair.)