David Bowie, His Aura and Cocaine in Photographs
[An interesting exploration of David Bowie's coke-induced ruminations back in the 1970s by intern-in-residence, Dorothy Lee. – AC]
David Bowie was quite intrigued with the occult during the 1970's. On November 3, 975, he was given a Kirlian photograph machine by Dr. Thelma Moss at the Department of Parapsychology at UCLA. Many believed then (and still believe) that Kirlian photography could capture images of the 'aura' of objects and people.
The device captures images via electrical coronal discharge "by placing objects on sheet photographic film sitting atop a metal discharge plate. When a high voltage was quickly applied to the object, it would create an exposure on the film" (The Daily Grail).
Some of the photos that Bowie took with the device were published in the programme for his 1976 tour in support of his album Station to Station which was released on January 23rd 1976. He also used it to capture the effects of drugs on his body by comparing two Kirlian photographs of his fingertip beside a crucifix that his father had given to him; one photo was taken before he consumed cocaine and the other photo was taken after.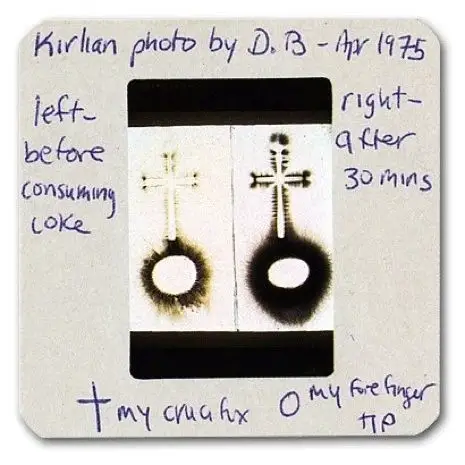 There's no doubt that Bowie really liked the photo as he also reproduced it for the booklet for his 1997 album Earthling, and also as the cover art for his single Little Wonder. Here's a short video of Bowie speaking about the photo.
George Harrison of The Beatles was also interested in Kirlian photography as evidenced in the cover for his 1973 album Living in the Material World which features a Kirlian photograph of his hand holding a Hindu medallion.