David Bowie Dead of Cancer at Age 69 [WITH UPDATES]
No. It can't be. Bowie is not supposed to die. Ever.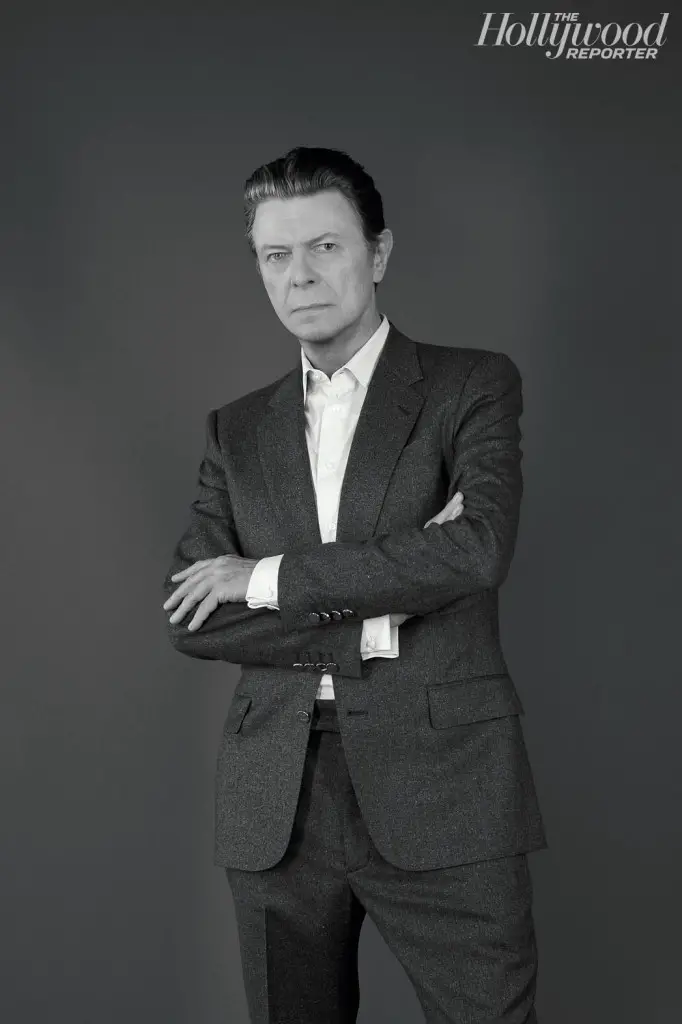 David Bowie passed away Sunday, January 10, two days after his 69th birthday. The news is official, confirmed in posts on both his official Facebook and Twitter accounts.

Duncan Jones, Bowie's son with Angie Bowie confirmed it via Twitter.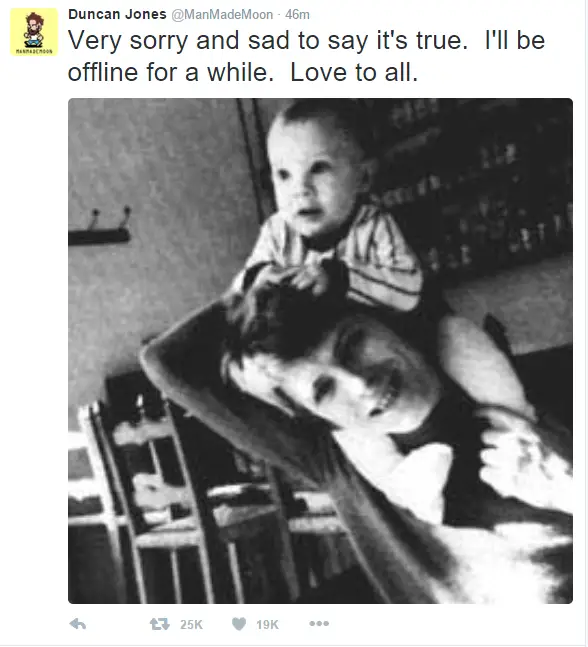 And then there's this confirmation by a spokesman to The Hollywood Reporter.
Cancer? Eighteen months? Six heart attacks? Was it those damn cigarettes? [UPDATE: No. He'd never have been able to sing then. A source says it was liver cancer.] And was he hinting at his impending death in the "Lazarus" video–his last single–he made for the new album, Blackstar? He does sing the line "Look up here, I'm in heaven." The album came out just two days before he died (January 8). What must have been going through his head as he shot this clip?
Quite a lot, apparently. Long-time producer Tony Visconti said on Facebook (via the Telegraph):
Tony Visconti, the producer who worked with Bowie to complete his final album, has released a statement saying it was deliberately created and timed as a "parting gift" for his fans.
In a statement on his Facebook page, he said: "He always did what he wanted to do. And he wanted to do it his way and he wanted to do it the best way.
"His death was no different from his life – a work of Art.
"He made Blackstar for us, his parting gift.
"I knew for a year this was the way it would be. I wasn't, however, prepared for it.
"He was an extraordinary man, full of love and life. He will always be with us.
"For now, it is appropriate to cry."
Make no mistake: This is a "where were you when you heard moment." As a friend pointed out, "He was Alternative's John Lennon." That, I think, sells him short. He was more than that. Much more.
Many sites are trying to sum up Bowie's career, as they must (Billboard, New York Times, the BBC, the Wall Street Journal). But Bowie was such a giant, it's impossible to capture what he did, how much he accomplished and how much he influenced music and everything in his orbit. If you take any virtually any aspect of today's music and draw a line into the past, you'll find that all roads eventually and inevitably lead to Bowie.
There will be plenty of well-deserved tributes as well as slicing and dicing of his career in the coming days.And it's more than just music. It's video, fashion, photography, the theatrics of rock and the way Ziggy Stardust's sexuality sent a positive message to those afraid to come out of the closet. For example, here's an article entitled "RIP David Bowie, The Man Who Changed Science Fiction." Then we have "Remembering David Bowie, The Man from the Future."
Beyond the music, people will remember his prescient financial move with Bowie Bonds, his early adoption of the Internet (his company developed the first website for the New York Yankees) and his painting and other artwork.
There will be much, much more.
His career goes back more than fifty years. This was his first-ever single, released in June 1964.
Bowie really should have died back in the 70s during the period he was eating nothing but raw peppers and drinking milk between binges of coke and heroin. At one point the man dropped below 90 pounds. He claims to remember almost nothing of 1976, including most of the recording of Station to Station. Yet he still had the wherewithal to pack up his things, grab Iggy Pop and move to Berlin where the two of them managed to sort themselves out–not to mention make some brilliant music.
This video was state-of-the-art for its day, costing $250,000. And this was in the days before MTV. Bowie was always a step ahead.
I saw David Bowie in concert many times, took in all his movies and read every book on the man. I was also fortunate to meet him face-to-face twice. The first time was during the Tin Machine era when I was granted a 30-minute one-on-one interview. I was so gobsmacked after he walked into the room alone, thrust his hand at me and said, "Hello, I'm David," that I forgot to unpress "pause" on my tape recorder and failed to capture a single word.
The second time was in a group setting in the late 90s. A bunch of us were milling about in a room with our backs to the door waiting for him to come in. I swear the moment he came through the door everyone felt it. You didn't even have to turn around. His charisma was that strong. And when I had my 90 seconds with him, his attention on me was total and complete. For those few moment, he made me believe that I was the only person in the world that mattered. Then expertly disengaged and did exactly the same thing to the next person. Brilliant.
Maybe you were lucky enough to have seen Bowie tour with Trent Reznor. Nine Inch Nails started the night with Trent's set seguing seamlessly into Bowie's. Again, brilliant.
David Bowie disappeared from public life after a heart attack in 2004. He was occasionally seen in and around New York where he once told someone he was "just trying to be David Jones," living with his wife Iman and looking after their daughter. But didn't you wish out loud that he'd show up for the opening ceremonies of the London Olympics in 2012? I sure did.There were also plenty of rumours about his health, all of which were blown out of the water when he shocked the world with
But the rumours about his health continued, some more dire than others. There were even rumours that he was, in fact, dead. But all of that was blown out of the water when he shocked the world with The Next Day, his 2013 comeback album that was miraculously recorded in total secrecy. When it was released, fans breathed a sigh of relief. Things were right with Bowie World once again.
Could one final tour be in the offing? Bowie was silent on the matter, although those around him were about 50-5o on the possibility–at least at first. The more time passed after the release of The Next Day, the less likely it became. It turns out that Bowie was ill and that like everything else in his life over the last decade, he chose to keep things very, very private.
Even Brian Eno didn't know what was going on.  From People:
"I received an email from him seven days ago. It was as funny as always, and as surreal, looping through word games and allusions and all the usual stuff we did," Eno added. "It ended with this sentence: 'Thank you for our good times, brian. they will never rot'. And it was signed 'Dawn'. I realize now he was saying goodbye."
As far as I can tell, this was one of the very last interviews Bowie did–and it's ten years old.
Ricky, as you might expect, is pretty shaken. Here's what he had to say.
There's also something…different about Bowie's passing. Elvis was 42 when he died of a heart attack. John Lennon was 40 when he was shot. Kurt was 27 when he shot himself. At 69, Bowie was exactly old–not by today's standards, anyway–but he was of what another friend calls "actuarial age," the time of life when lots of people die of the things living does do you. Things like cancer.
RIP Bowie @RitzyCinema pic.twitter.com/qGqxO6ML4E

— Clare Binns (@ClareLBinns) January 11, 2016
This is a developing story, obviously, and I'll be adding to it as the day goes on. Meanwhile, some reaction to his death can be found here.
One more thing. While watching football on Sunday afternoon, I was inexplicably inspired to transfer the notes from a recent presentation I did on Ziggy Stardust to a blog post. Up until that moment, I had no intention of doing any such thing, but I somehow felt it needed to be done. And right then, too.
Strange timing, don't you think?
Further reading
And it just keeps on coming:
Well done East Finchley tube station staff @TfL#davidbowiepic.twitter.com/EBDHPCCcfz

— Charlie Elliott (@charlienin) January 11, 2016