David Bowie is now on TikTok
If you've been following developments with TikTok, you'll know that the platform is not only launching the careers of new artist but also re-launching those of older artists. Just look at what Dogface did for Fleetwood Mac's fortunes with his cranberry-juice-and-"Dreams" clip. That's the part of the story I find so fascinating.
Record labels and companies in charge of managing the fortunes of popular songs have dove into TikTok, hoping that they can end up with some kind of viral hit. And since TikTok pays royalties every time a user adopts a licensed song, the revenues can be substantial. Not to mention the beneficial knock-on effects. Cranberry juice dude helped Fleetwood Mac's Rumours album reach the top ten on the album charts for the first in in 42 years.
The latest artist to official adopt TikTok. As today, what would have been his 74th birthday, there is a David Bowie TikTok profile. This was launched in partnership with Sony, Warner, and Bowie's estate. Over five decades' worth of his music will be available for use by TikTok clients.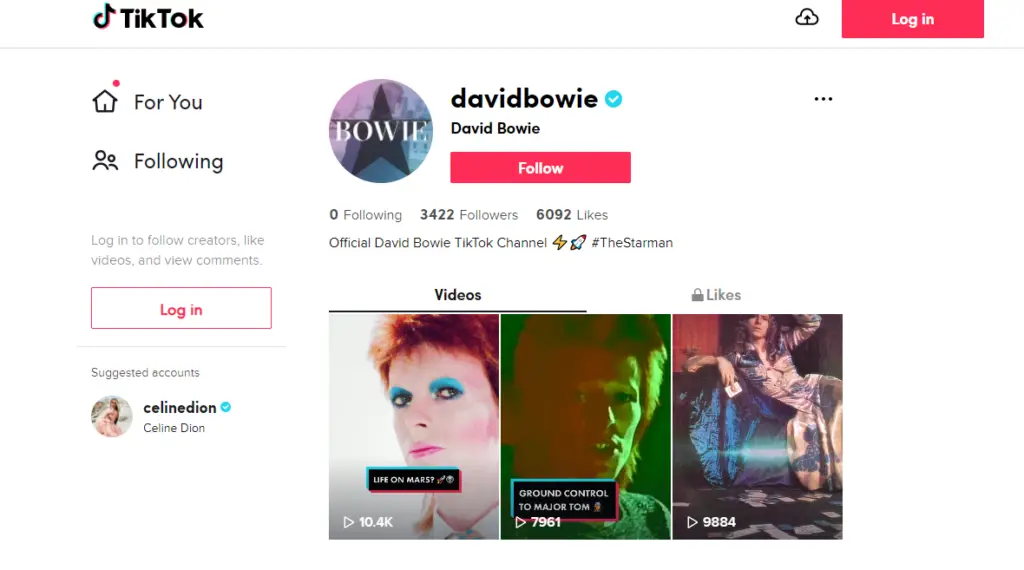 There's more, too. Sunday, the fifth anniversary of Bowie's death, will mark the start of The Starman Challenge (#TheStarman). If you've got an idea on how to use his "Starman" in a cool way over 30 seconds, fill yer boots.
The hope is that the foray into TikTok will introduce Bowie to a whole new generation of fans. And give his shapeshifting ways, this seems to be a no-brainer, right?