David Cassidy, Star of The Partridge Family, is Dead at 67. Remembering the Original Made-for-TV Teen Idol Era
After hearing about David Cassidy's hospitalization several days ago, we knew it was just a matter of time. Suffering from dementia, his organs failing and not eligible for a liver transplant, time was short. Cassidy died tonight (November 21).
If you grew up in the late 60s/early 70s–and especially if you're a female–you'll remember the whole teenage heartthrob era, a time when non-threatening good-looking boys were manufactured to sell bubblegum pop singles and copies of 16 and Tiger Beat magazines. David was one of the let's-drive-the-little-girls-crazy industry's biggest stars.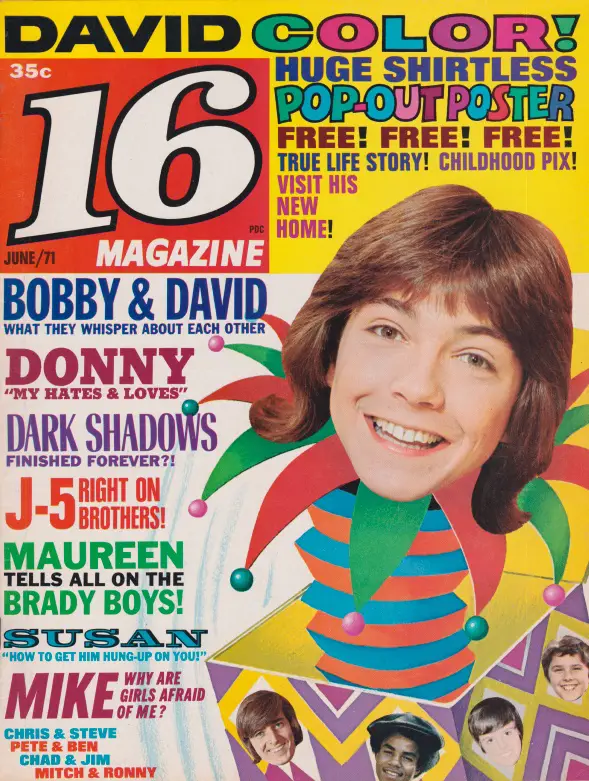 Cassidy became famous as Keith Partridge, the lead singer of the fictitious made-for-TV musical family, The Partridge Family, which ran on ABC between the fall of 1970 and the spring of 1974. The whole premise was based on The Cowsills, an actual band made up of actual family members who had some hits through the late 1960s.
Through 96 first-run episode which then ran forever in syndication, Cassidy–who was an actor but not a singer when he was cast in the role–was turned into one of those early 70s teen idols that generated gazillions of dollars from screaming adolescent girls. Using the TV show as leverage (as we say with The Monkees and Ricky Nelson before that), eight Partridge Family albums were released in just three years (not counting a greatest hits album in 1972), three of which cracked the Top 200 in America.
This single hit #1 in Canada and the US in 1970. The writer was Tony Romero, who also wrote songs for dozens of people but never had a hit bigger than this one–not to mention all the cover versions.
Cassidy's image appeared on hundreds of pieces of merch: t-shirt, boxes of cereal, posters, comic books, dolls. At one point, he had more members in his official fan club than Elvis and the Beatles had in theirs.
By 1974, he was sick of the whole circus and quite the show, going solo in an effort to be taken seriously–much in the same way Ricky Nelson had done a decade earlier. And at first, things went rather well as he attempted to age with his fans from teen idol to mature singer. He even had a hit with this song before Barry Manilow stole his thunder with his version.
Cassidy continued to record and perform through the 80s, 90s and early 2000s, mostly in musical theatre, right up until he retired this past February, coming clean about his non-Alzheimer's dementia.
But maybe you weren't on Team David. There were other pretenders to the King of Tiger Beat crown. Here are ten more teen idols from the 50s, 60s and 70s.
Ricky–the real-life son of TV couple Ozzie and Harriet–was the first teen idol of the rock'n'roll era. Between 1957 and 1973, he had 53 singles on the Billboard Top 100 chart. Ozzie, a former big band musician who knew a thing or two about record contracts, negotiated a killer record deal for his son that saw him earn millions through the 60s. This first single, released in 1958 when he was just 17, sold over 2 million copies in a matter of weeks.
By 1959, Ricky was in direct competition with Fabian Forte, who rocketed to fame after appearing on American Bandstand several times. Fun fact: During the payola hearings of 1960, Fabian testified that his voice had been "doctored electronically" to make it sound better. Man, I'll bet he loves Auto-Tune.
Originally seen as a rival to David Cassidy–my sister was a fan and insisted my mom buy her boxes of Sugar Puffs that featured a Bobby Sherman record baked into the packaging that you were supposed to cut out and play–he retired from music in the middle 70s. He went on to become a paramedic and a police officer.
Davy was the cute one in The Monkees, the little English guy whose character was designed to appeal to all the girls. Fun fact: It was because of him that another David Jones decided to change his name to "David Bowie."
Squeaky clean and extremely Mormon, Donnie was the safest of all the boy singers of the early 70s. Parents were thrilled that he didn't swear, didn't drink, loved his family and always kept his shirt on.
Aw, he was so cute, singing and dancing with the rest of his brothers from Gary, Indiana. He was a bit young to be a teen idol in the early 70s, but that would come later when he went solo. I hear he eventually did okay.
Before he became more famous as the disco-dancing mook Tony Manero in Saturday Night Fever, he was Vinnie Barbarino of the Sweathogs on Welcome Back,  Kotter on ABC. While still on the show, he had this Top 10 single.
He was part of the second wave of 70s teen idols, beginning with a debut album in 1977. Disco beckoned and he had a couple more hits in the late 70s before he turned to acting and musical theatre. Oh, and drugs and alcohol. Fun facts: (1) He recorded with the Melvins, recording vocals for their version of "Smells Like Teen Spirit." (2) He won the $50,000 grand prize on the celebrity edition of Fear Factor in 2006. (3) He provided the voice for himself on a 2001 episode of Family Guy.
David's half-brother had a hot run in the middle and late 70s before moving into acting full time. He's now a successful Hollywood producer and director of TV shows, especially for cable.
Too young to join his brothers in the Bee Gees, young Andy was marketed towards the group's younger post-disco fans. He later became famous for his coke binges and ended up dying of a viral infection in his heart in 1988.